Chefchaouen Travel Guide – Morocco Blue City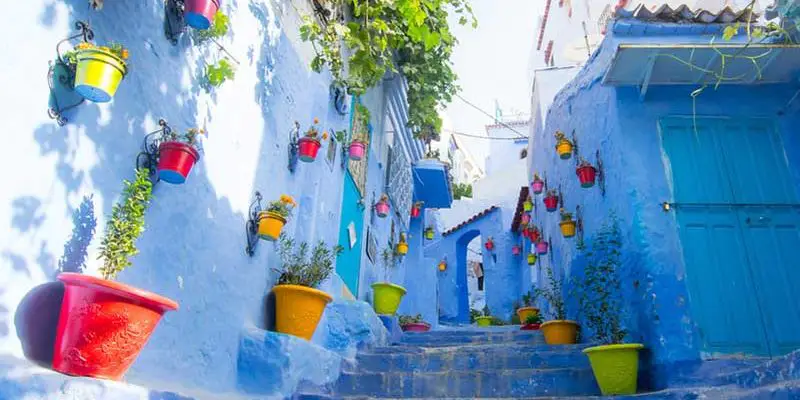 Chefchaouen Travel Guide Overview:
If you have been planning a vacation in Morocco, you have probably seen a lot of splendid photos of a city entirely painted with different shades of blue. Nestled high up in the majestic Rif Mountains in Northwest Morocco, Chefchaouen is known for its vibrant shades of blue that locals have painted the walls of every building and pathway for the past few centuries.
Compared to the travel meccas of Marrakech and Fes, Chefchaouen or Chaouen as the locals like to call it is a small conservative town out of the way, but it is a must-visit. This charming town offers a pleasant and calm visit, with a splendid backdrop of the Rif Mountain range behind.
There are plenty of photos of opportunities in Chefchaouen. From adorable cats lazing in the sun, white-washed doorways and staircases to colourful little shops. There are even two places known as the Instagram photo places that wouldn't want to miss. However, always remember that the doors and alleyways are part of the local peoples' homes. so, be mindful of this when exploring the Medina. Don't be too nosy! In fact, one of the best things to do in Chefchaouen is to simply wander the alleyways and explore the blue town. Read our ultimate Chefchaouen travel guide to learn more about this blue pearl and to make the best of your time while in Chefchaouen.
Why is Chefchaouen Blue?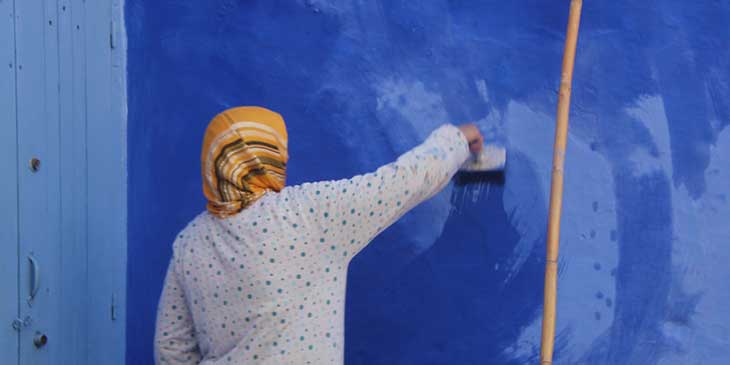 Chefchaouen was established in 1471 by Mulay Ali Ben Rachid. During the Reconquista of Spain in 1492, the Jews were expelled from Spain. Many of them fled to Morocco and established their own district in Chefchaouen. To this day, the Andaluz District is one of the most popular in the Blue City.
The Jewish community that took Chefchaouen as a shelter brought along their tradition of painting buildings blue. Some believe because it was a reminder of their faith in the heavens and skies.
Other theories suggest that blue colour keeps mosquitoes away, it represents the ocean and blue paint helps to keep the town cooler in the summer heat.
When is the Best Time to Visit Chefchaouen?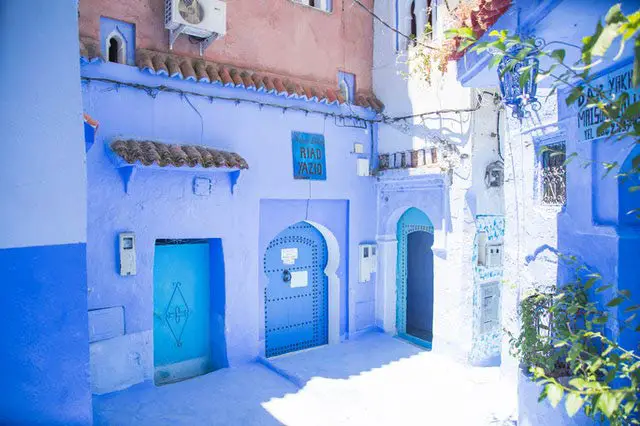 Because Chefchaouen is located in the Rif Mountains, it is cooler than the rest of Morocco. The summer months are naturally warmer, by the evenings are noticeably cooler.
On the other hand, visiting Chefchaouen in the winter months will make for cold days and even colder evenings and with an increased chance of rain. So, don't forget an umbrella.
The weather is at its best in Chefchaouen around spring from March to May and autumn from September to November.
How to Get to Chefchaouen?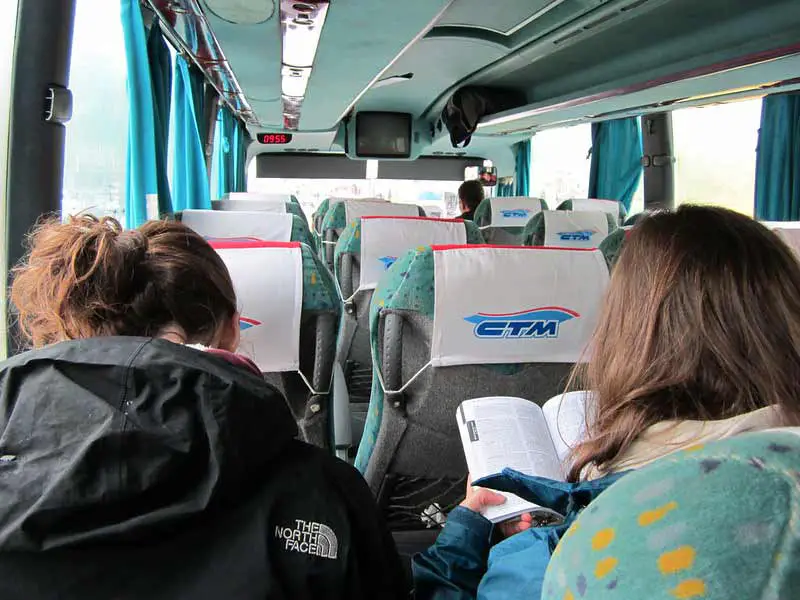 There are no airports near Chefchaouen, which helps the town from being overcrowded or affected by mass tourism. The only way is to arrive by road, whether in a taxi, car or bus. The two nearest towns are Tangier, along with the Mediterranean Coast and then Fes which is further south. Tangier is where the ferries come in from Spain and the drive from Tangier to Chefchaouen is a hilly 2-3 hours.
We came via bus from Fes, which was a bumpy but fine 4-hour drive to Chefchaouen. There are only a handful of buses a day in either direction, so it's important to buy your tickets a day or two in advance if you're working on a tight time frame in your Morocco itinerary.
Flight to and from Morocco to Europe are reasonably cheap. But it is important to note that there are Airports in or near Chefchaouen. This actually keeps the town from being overcrowded or affect by mass tourism. The only way to travel to Chefchaouen is by road, whether in a grand taxi, car, or bus.
Read The Best Things To Do in Marrakech!
Getting Around Chefchaouen
Wondering the white-washed alleyways and the blue-painted buildings of Chefchaouen is probably one of the best ways to experience this charming town. To help you have a wonderful experience, here our picks for getting around Chefchaouen:
Walking: Chefchaouen is built on a hill, so the main way to explore the blue-washed alleyways of Chefchaouen is by foot. Since the town requires a lot of uphill walking, it is not accessible for many people, as a certain level of fitness is needed for all the stairs and sleep alleyways.  When you get to the top, you can feel that you just hiked a mountain. The blue city is a real cat and mouse uphill maze of small staircases and pathways. With that being said, walking is the best way to experience the city.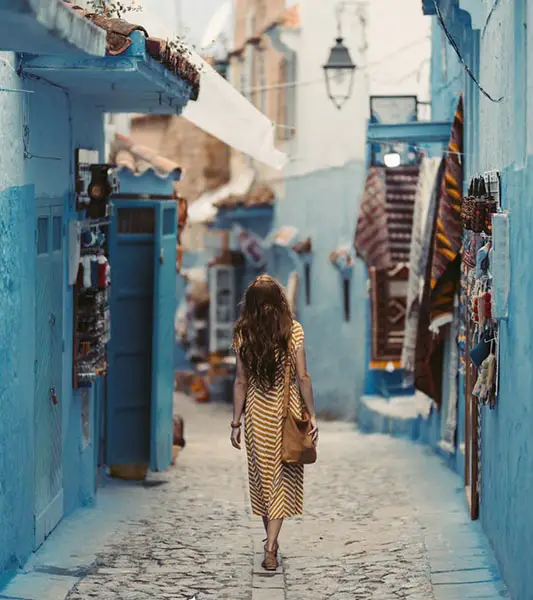 Taxi: If you want to visit any of the attraction around Chefchaouen, such as Akchour Waterfalls or the Rif Mountains, it is recommended to take a taxi for ease. But, if you intend to rely on taxis, consider learning some basic French or Arabic expressions to communicate with the driver!
Stay Cool: While wandering the blue city, the temperature can get very high and can get pretty uncomfortable to walk around in such heat. The narrow streets and the blue-painted houses are in place to combat the heat of the sun. So, stick to the side of the street and shady areas to stay cool.
Pro Tip of Chefchaouen Travel Guide:  You should be aware of some of the locals that offer to guide you through the town. If you agree to their assistance, they will expect you to give them a tip! Also, while wondering the colourful streets of Chefchaouen, always keep in mind that the doors and alleyways are part of the local peoples' homes. so, be mindful of this when exploring the Medina.
Read Also What Not To Do in Marrakech!
Best Things to Do in Chefchaouen?
Chefchaouen, also known as Morocco blue city, is a beautiful town with beautifully blue-painted walls and admirably high mountains overlooking this charming gem. There is so much to see and do in the blue city, here are our picks for some of the best things to do in Chefchaouen:
1- Shopping in Chefchaouen Medina:
Shopping in Chefchaouen is one of its biggest tourist attractions. Even though it may not be as diversified and as big as the larger cities of Marrakech, Fes and Casablanca, the blue city boasts a mesmerising traditional souk and has plenty of little shops offering metal and leather goods.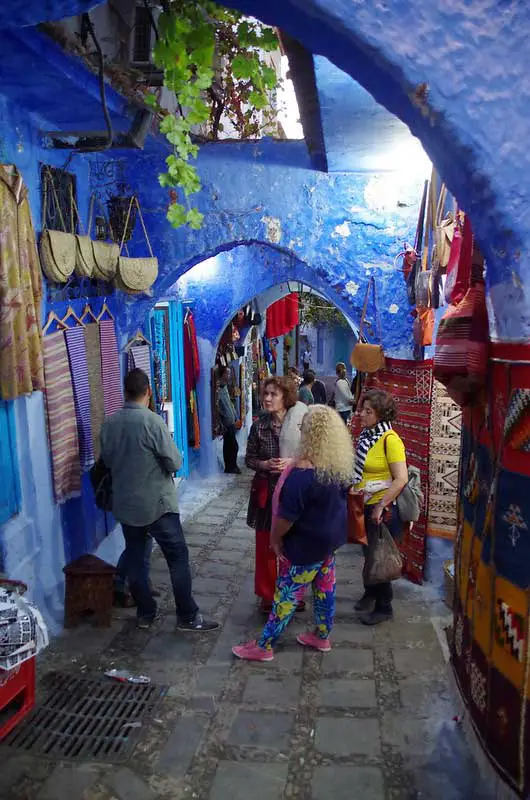 After exploring the colourful and vibrant alleyways of Chefchaouen, consider purchasing some traditional souvenirs that you could take home as gifts.
Visitors love the relaxed atmosphere of the town, which is hard to find in the other bigger cities, as this means they can walk at leisure and appreciate the local leather products and the colours which Chefchaouen is known for!
2- Chefchaouen Guided Tour:
Chefchaouen is a town which has so many interesting stories and hidden spots you wouldn't want to miss, and so sanctioned local guides can be a blessing even for travellers that normally like to explore on their own.
Wandering the blue city with a local guide will allow you to learn about the majestic walls and spectacular gates of the town and get to hidden spots that you wouldn't get to on your own.
Admire the exquisite signs of early life through the flour mill, enjoy the medina's beautiful natural water springs and shop for souvenirs in the colourful shops.
Touring the town with a local guide will allow you to enjoy the experience without being bothered by fake guides or the shops' owners that want to sell you stuff.
3- Have lunch with a view at Casa Aladdin Restaurant
After a long day exploring the blue town or trekking the Rif Mountains, treat yourself to a delicious meal from traditional Moroccan cuisine.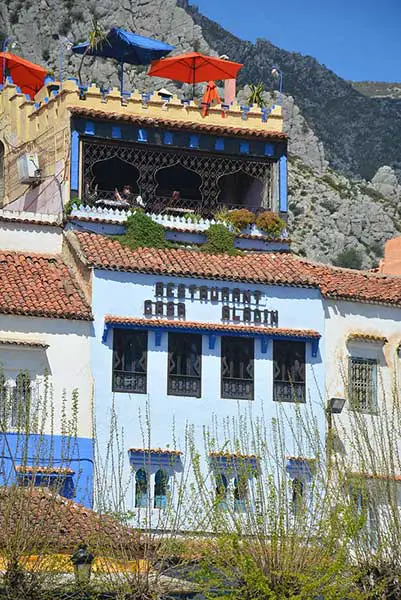 The best choice is Aladdin Restaurants, where guest can choose from a menu of international flavours including Spanish omelette and more importantly, a wide selection of Morocco dishes, from Kofta to all kind of couscous and tagines – and all at affordable prices.
The restaurant offers wonderful views of the town and has a romantic and enchanting ambience which complements the delicious food.
4- Plaza Uta el-Hammam
Many things happen around the hustle and bustle of the main square of Chefchaouen; Plaza Uta El-Hammam. Overlooked by the mountains, shaded by trees and strung by lights, the square is surrounded by shops, cafes and restaurants.
Plaza Uta El-Hammam is based in the centre of the town, which makes it an excellent spot to sit, inhale the mountain air and watch the world goes by after a sightseeing tour of the vibrant town. In the afternoon, both locals and tourists alike gather here to chat and relax.
As the sun goes down, the street food stalls are set up, offering all types of snacks and street food. The restaurants and cafés in the square offer traditional Moroccan dishes as well as some western food.
5- Visit the Kasbah Museum
Located at a high point in the heart of the medina, surrounded by extraordinary landscapes of blue-painted buildings, the Kasbah Museum stands perfectly in the midst of the blue city of Morocco, which makes it impossible to miss when touring the colourful streets of Chefchaouen.
The Kasbah looks interesting and beautiful from the outside and even more thrilling to see the inside. This building is an excellent example of the fascinating history of Chefchaouen Morocco and hosts a cultural heritage that is reflected in its artifacts and museum.
Back in time, the kasbah has served many purposes, most notably a prison, but now it is an ethnographic museum and ana art gallery. Inside the kasbah, there are beautiful Spanish-styled gardens, which provide a convenient area of calm away from the bustle of the city.
The museum features an interesting selection of ancient artefacts, clothing, instruments, traditional decorations and pottery craft items.
Entrance Fee: 60 DHs
6- Grand Mosque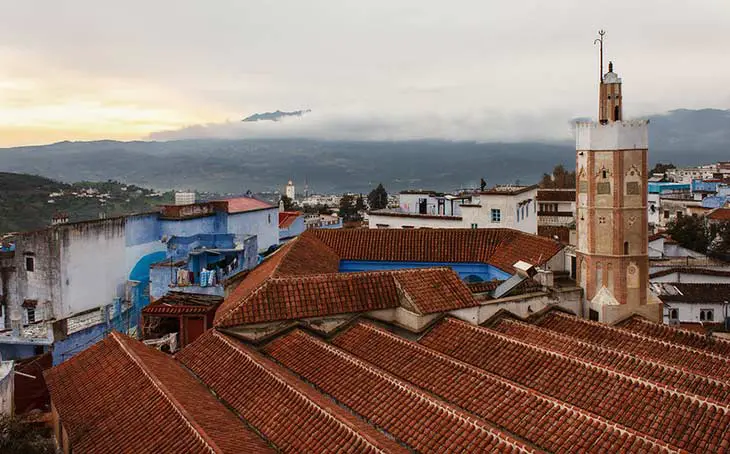 Built by Moulay Mohamed in 1560, the Grand Mosque is the largest and oldest religious institution in Chefchaouen. The mosque is still used for religious worship, so Just like all other mosques in Morocco, it is only accessible to Muslims. However, its unique octagonal minaret and distinctive architecture make it worth exploring from the outside.
7- Catch the Sunset and Experience the Call to Prayer
Chefchaouen is one of the places where it is definitely worth timing your day around the sun. The best way to start your day is with a morning sunrise from your riad roof terrace with a hot coffee.
On the other hand, in the evening, most visitors embark on a 10-minute hike from the centre of the town to the Spanish Mosque on top of the hill.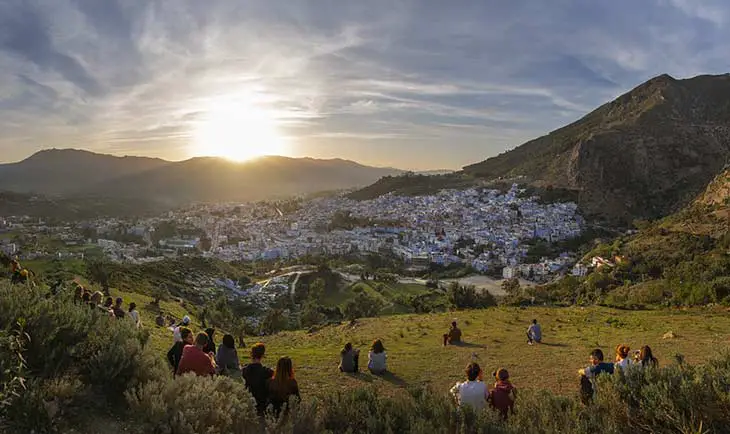 Here, tourists gather to witness the spectacle of the sunset over the town while experiencing the call to prayer which enhance the experience. This spot is the best panoramic viewpoint in the whole town!
8- Ras el-Ma Waterfalls
Translating as "the head of the water", Ras El-Ma is located just beyond the North-eastern gate of Chefchaouen medina. This is the point where the fresh mountain water trickles its way into the blue town and where the local women gather to do their washing and have a friendly moment.
As an alternative to the remote and bigger waterfalls of Akchour, these refreshing falls are much convenient to escape the heat and to get a dose of nature!
There is a small café near the waterfall where you can have a relaxing glass of mint tea or a cup of coffee, which is a pleasant experience, especially during the hot months.
9- Hike the Rif Mountains
For an even greater experience of nature and the blue town itself, hike in the Rif Mountains and admire Chefchaouen from the top with splendid panoramic views of the town.
Even though the Rif Mountains are not as known as the Atlas Mountains, they are just as beautiful, with peaks that rise more than 1900 metres above the Mediterranean ocean and offers its visitors some of the best hiking routes in North Africa.
Don't just admire the Rif Mountains from the town, make sure you hike up there yourself. You wouldn't want to miss the sunset!
10- Akchour Waterfalls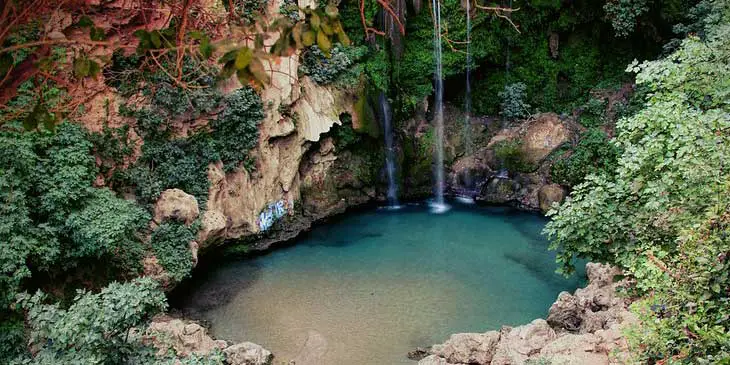 Beyond the colourful pathways, there are wonderful natural landscapes that surround the blue city. About a 30-minute drive from Chefchaouen lies a tail which, after beautiful walk-in nature, leads tourist to the stunning waterfalls of Akchour.
The crystal blue waters are matching with the colour of the town and offer visitors the opportunity to go for a swim or to simply admire the beautiful waterfalls.
If you visit the area, make sure to stop by the inspiring Bridge of God, a fascinating rock arch spanning the river.
Read Also Our 10 Tips for Perfect Sahara Desert Tours!
Where to Eat in Chefchaouen?
If you are planning a visit to Morocco's blue city, you will need to know the best restaurants in Chefchaouen. The blue city is easily one of the most popular destinations in Morocco, an enchanting town where every building is completely painted blue. A holiday in Morocco is not complete without a visit to Chefchaouen.
1- Restaurant Casa Aladdin: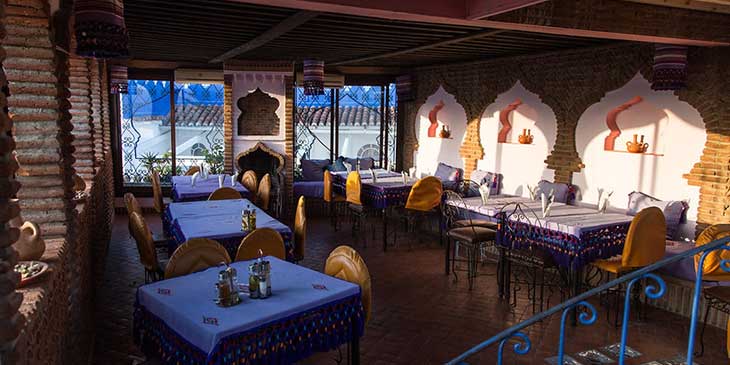 Restaurant Casa Aladdin is one of the most popular restaurants in Chefchaouen. Situated at the Northeast side of the main square, you will find this beautiful multi-story restaurant that offers splendid views of the blue town and offer some of the most delicious traditional Moroccan dishes.
This restaurant offers you a wide selection of traditional Moroccan dishes – from kofta to all kind of tagines and couscous – all at very affordable prices.
While the Casa Aladdin Restaurant interior is decorated by a beautiful mixture of Arabian and Spanish style, the roof terrace offers incredible panoramic views of the lively main square of the medina, where you can hear traditional music, smell the fresh air of the Rif Mountain and stacks of the medina's houses' in varying shades of blue.
Casa Aladdin is one of the loveliest places to eat in Chefchaouen!
When to Go: Perfect for lunch
What to Order: We recommend the couscous or tagine
2- Café Clock Restaurant: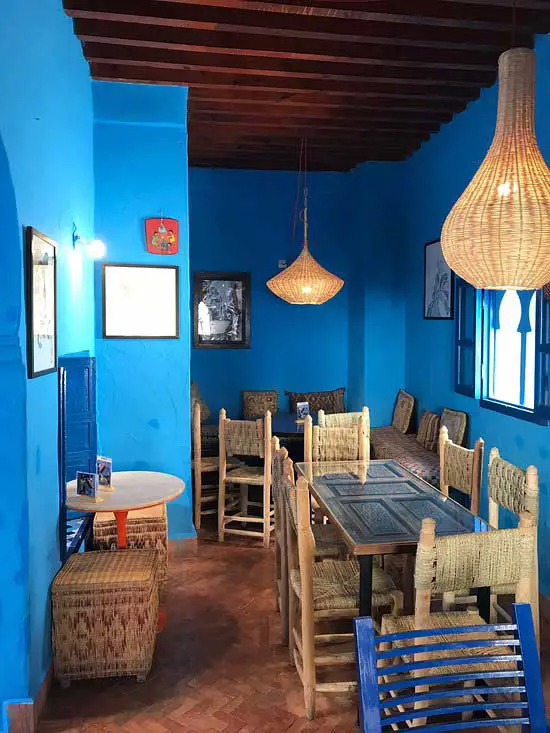 Owner by British Mike Richardson, Café Clock knows what its visitors want. From their signature camel burgers for the foodie's explorer, refreshing salads and orange juice for the health-conscious to cappuccinos for the proper Italian-style enthusiasts.
The Chefchaouen restaurant is four stories and offers beautiful uninterrupted views of the town from its rooftop terrace. Café Clock is the perfect spot for lunch in Chefchaouen. In addition to camel burgers, they also offer roasted chicken with lentils, a Chaouen special dish.
For vegetarian travellers, Café Clock offers a wide range of Moroccan dishes; from vegetable Bastilla, gazpacho, and Moroccan salad with goat cheese and Ras el Hangout, a Moroccan spice with up to 45 ingredients.
The spectacular rooftop offers beautiful views, overlooks the medina and make for a perfect place to relax on a Moroccan mint tea while enjoying the sunset. On the hand, the middle floor is cosy, perfect for dinner and offers Andalusian live music and storytelling.
When to Go: Perfect for lunch and dinner
What to Order: We recommend the camel burger
3- Lala Mesouda: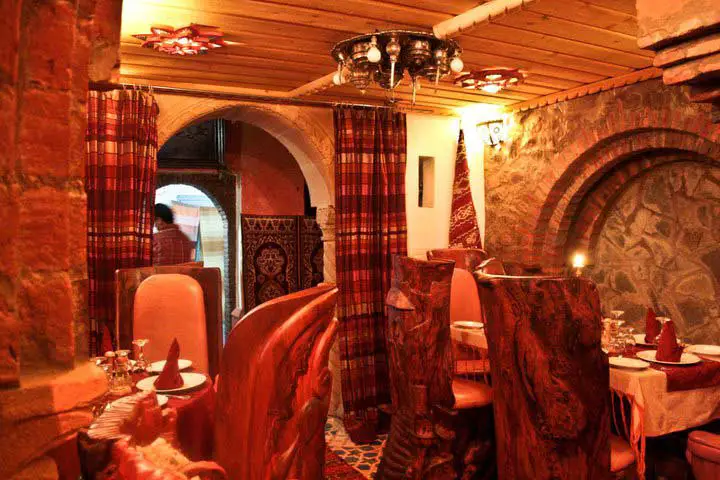 If you fancy homemade Moroccan cuisine, it doesn't get any better in Chefchaouen than Said Bakkali's tucked away gem along the upper slopes of the medina. In addition to the exquisitely prepared tagines and Frida couscous, the chefs at Lala Mesouda's specialities focus more on traditional Moroccan cuisine served at home.
The menu includes Moroccan salads such as Baqula, a cooked, spinach-like green and Zalouk as well as Sferjal, quince and beef and ox penis, slow-cooked for the adventurous foodie.
When to Go: Perfect for lunch
What to Order: We recommend the camel burger
4- Pizzeria Mandala: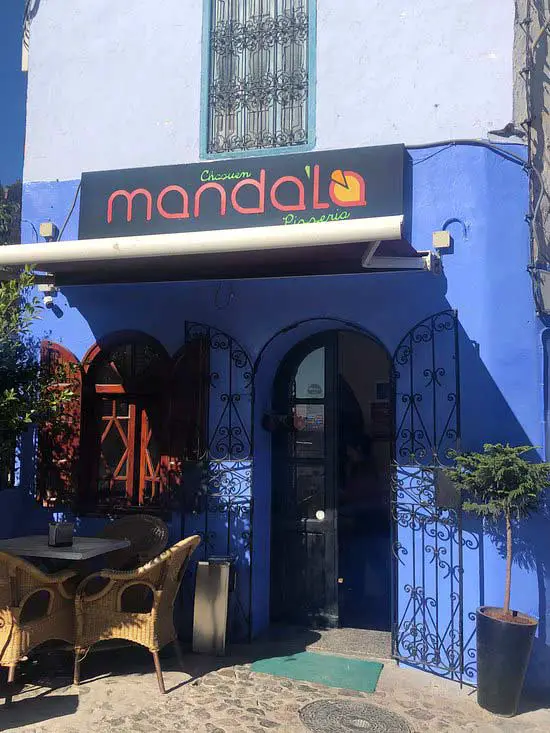 If you are looking to try a taste of Italian cuisine in the heart of the blue city, this is the perfect place to go. Pizzeria Mandala offers an exclusive menu of Italian favourites which offer an alternative to traditional Moroccan dishes.
Based near the famous square of the city, Outa Hammam, guests can choose from a wide selection of pizzas and pasta, as well as salads and a small menu of meat, featuring hamburgers and chicken dishes.  They offer a mouthwatering dessert menu of fresh fruit, ice cream, and chocolate fondu which complements their delicious dishes.
When to Go: Perfect for lunch
What to Order: We recommend the
5- El Kasbah Restaurant:
Al Kasbah restaurant is unique and worth visiting purely for its beautiful interior decoration.  The exterior of the kasbah is painted blue and has beautiful wood and nice plants on the outside. Guest can choose to eat inside the dining room which is decorated and has an authentic ambience.
Alternatively, you can choose to dine on the rooftop terrace to appreciate the enchanting exteriors overlooking the town. with a perfect location, the Kasbah restaurant offers some of the most delicious Moroccan dishes at decent prices.
When to Go: Perfect for lunch
What to Order: We recommend the
6- Casa Hassan Chefchaouen: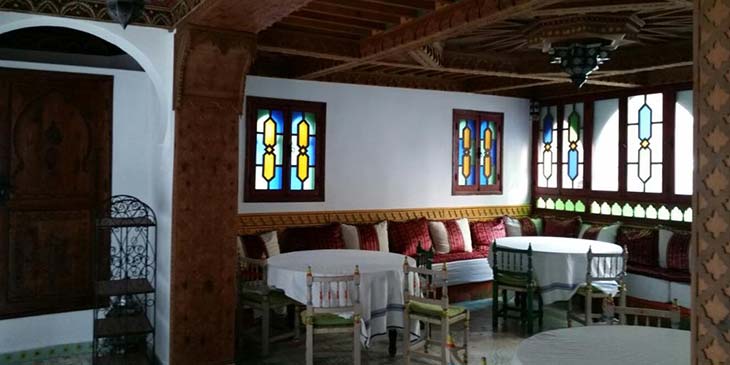 The Chaouen restaurant inside the Casa Hassan is split into several fine dining rooms painted in different shades of blue with a cheerful and bright ambience.
The restaurant has a panoramic terrace which makes it perfect for lunch and welcoming on chilly evenings when the fire roars and warms the bones and the open kitchen allows the guest to witness the chefs at work and choose from a selection of all sorts of tagines.
The menu includes traditional Moroccan fare with a special touch. Fresh goat-cheese salad, a local pastilla are just a few delights from the menu. There are also daily specials including Moroccan salad and soup, main, and dessert.
The indoor seating is not smoking, but adding a certain smokiness to the saffron-scented chicken and lemon deliciousness smells adds to the experience.
When to Go: Perfect for lunch and dinner
What to Order: We recommend the tagine or pastilla
7- Restaurant DarCom: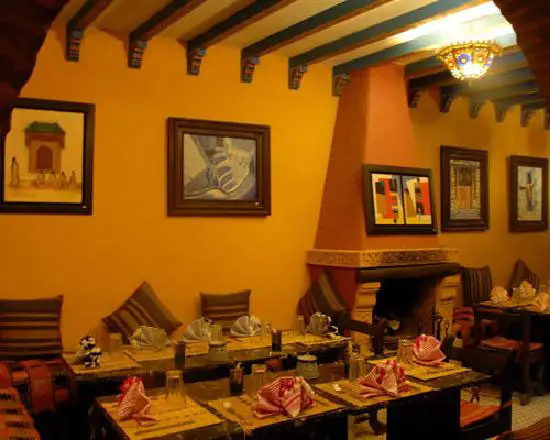 Vegetarians travellers in Morocco will be delighted to find this restaurant.  This place offers a wide range of vegetarian treats. Start off with a Moroccan salad, a typical four veggie dish that includes olive, split pea soup, aubergine. Savour a dish of couscous either with seven vegetables or caramelised with sweet onion and topped with peanuts that can satisfy your hunger. Finish off with a light dessert of sliced fresh orange sprinkled with sugar and cinnamon.
The restaurant has a romantic ambience with little artisanal details that characterize its setting.  Dar Com has two indoor levels of seating that guests can choose from, which is perfect for a cosy and relaxed evening dinner. It also has two roof-top terraces that offer beautiful views of the town and are perfect to taste a glass of Moroccan mint tea while enjoying the spectacular sunset.
8- Auberge Dar Dara: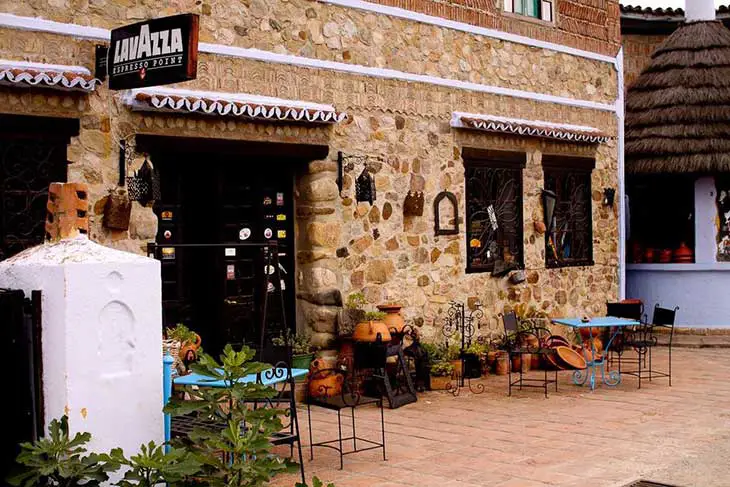 Nested in the rural area of the Rif Mountains, restaurant Dar Dara is a pleasant charming auberge that offers its guests a refreshing and relaxing escape where they can tuck into delicious local cuisine and Moroccan culinary which showcase tasty homemade dishes. Favourite of Moroccans and is on the bucket list of many foreign travellers, auberge Dar Dara is a place where visitors can taste top-notch Moroccan cuisine. From Chefchaouen traditional Bisara to goat cheese salad, Eggplant caviar, grilled rabbit, to all sorts of tagines, every bite offers a perfect taste.
In order to produce fresh meals, Jaber, the owner of the hotel-restaurant, is the head of the kitchen and is always on-site to supervise. The restaurant uses products from its garden and its surrounding villages. The auberge also offers overnight stays in Berber style decorated rooms, cooking classes, and team-building activities. Dar Dara auberge is one of the best places to eat around Chefchaouen.
When to Go: Perfect for lunch
What to Order: We recommend the goat tajine to bissara
Read Our Top 10 Reasons to Visit Morocco!
Where to Stay in Chefchaouen?
The blue city of Morocco could easily claim the title of the most gorgeous town in Morocco. It is one of the prettiest cities that you will visit in the country and that is because of its beautiful blue-shades, its unspoiled authenticity, and the incredible landscapes of its surrounding areas.
If you are looking to stay in Chefchaouen, you would be delighted to know that most of the hotels and riads in Chefchaouen are highly affordable. In fact, there are no luxury hotels in Chefchaouen!
Chefchaouen Travel Guide Pro Tip: It is important to note that note all of the town is painted blue, just the medina area. Therefore, if you wish to stay in the blue area, you will have to choose a location within the medina. Also, please note that the medina is a car-free zone and you will be hiking your luggage with you to the hotel. I would recommend that you ask your guesthouse owner to send someone to help with your luggage and guide you through it.
So, what are the best places to stay in Chefchaouen? Read our comprehensive list that covers some of the places to stay in the blue town of Morocco.
Best Hotels in Chefchaouen:
Like all other cities in Morocco, the best accommodations to stay in Chefchaouen are riads. The blue city is filled with beautiful little guesthouses that offer an authentic Moroccan stay. Most of the riads in Chefchaouen have been converted from hundred-year-old homes of the rich class of city to boutique hotels that have a unique look and interesting history and offer an incredible stay. Here are our Chefchaouen travel guide hand-picked places to stay:
1- Lina Ryad & Spa Hotel: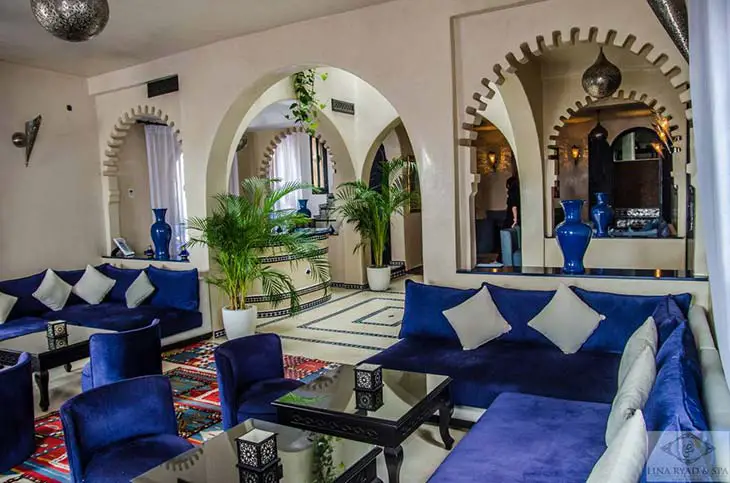 This classy and elegant riad is perfectly located at the heart of the blue-washed medina. It is ideally positioned for visitors who wish to spend some time exploring the medina and discovering the area's attractions. Its rooftop terrace offers magnificent views and the onsite spa centre has an indoor private pool, traditional Moroccan hammam and a Jacuzzi hot tub.
With beautiful views of the Rif Mountains and the blue-painted medina, Lina Ryad is a boutique of suites that are elegantly decorated with Moroccan modern design and a beautiful combination of shades of white, which is complemented with the blue shades of the town. Every room in the hotel has a private shower and top-end mattresses.
2- Casa Perleta: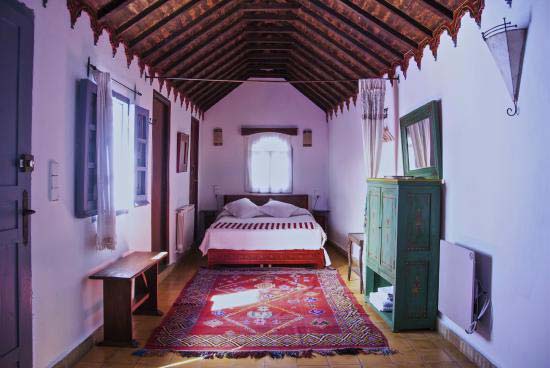 Casa Perleta is a traditional guesthouse located near the Bab Souk entrance of the medina. While the blue Andalusian rooms are small, they are comfortable and decorated with locally made textile, fine paintings and beautiful furniture. This boutique has a small terrace that makes for a great spot catching the sunset or reading a book.
Make sure to book early because this popular place doesn't have many rooms! Begona, the riad manager, is super friendly and full of energy with tips on where to eat and the best places to shop for local crafts and souvenirs to take with you home as gifts.
3- Dar Echchaouen: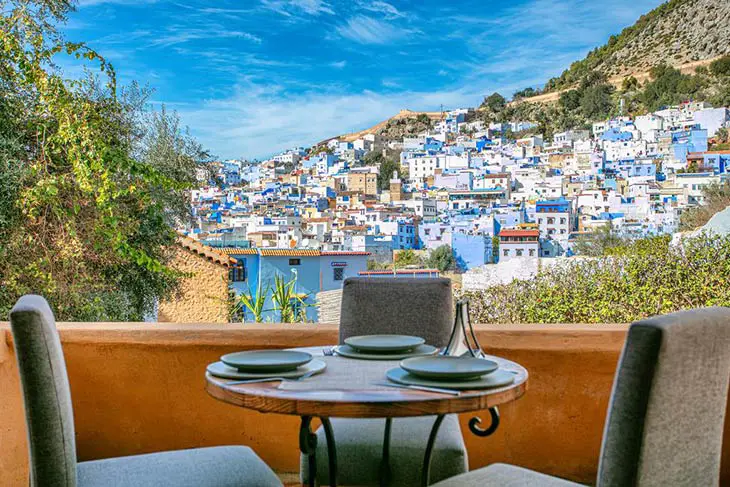 Located right outside the medina near the River "Ras El Ma", Dar Echchaouen is a perfect place to relax and enjoy the quality service. Characterised by its gorgeous blend of traditional Moroccan architecture and modern comfort, this funky hotel boutique has 12 rooms and suites that are decorated with a mixture of Arab and Hispanic style.
Beautifully ducked in bright shades of white colours and soft fabrics and decorated with local paintings from the local market, Dar Echchaouen is a perfect place to experience Moroccan culture.
4- Dar Meziana: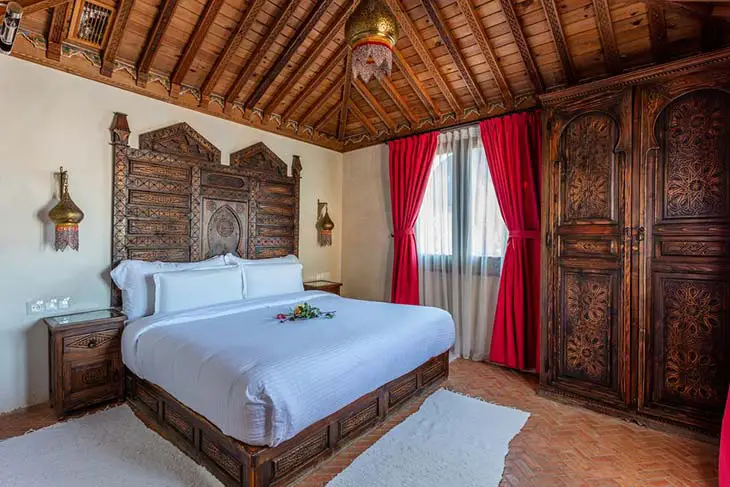 Sited at the end of a delightful, steep cobbled street, this small rustic bed and breakfast guesthouse is an example of old traditional places to stay in the Chefchaouen. Even though a bit old-dated, Dar Meziana is a traditional Moroccan riad decorated with authentic furniture of Chefchaouen, beautiful paintings and fascinating art décor.
Designed in Andalusian, Moroccan style, Dar Meziana offers cosy rooms, a pretty courtyard dinning area and a beautiful roof terrace overlooking the town, perfect for relaxing and catching the sunset. If you are looking for a unique place to spend the night in Chefchaouen, this guesthouse is a real treat!
5- Casa Hassan: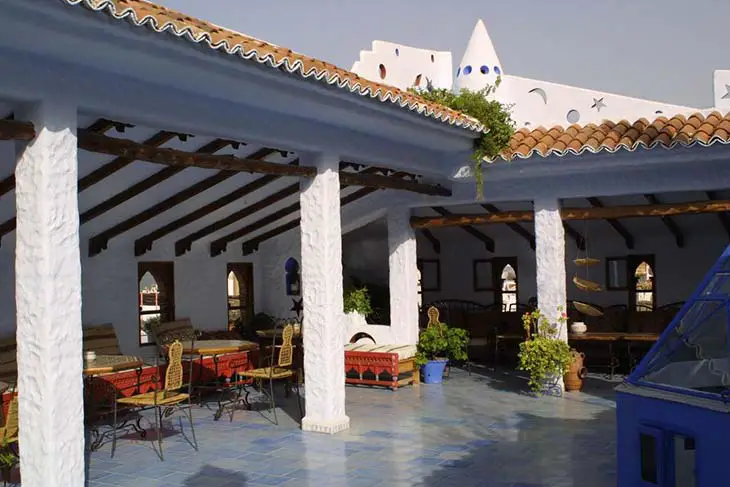 In this authentic and touristy town, perched on top of the hill and sited in the heart of the medina, there an exceptional guesthouse, Casa Hassan. A charming riad of traditional Moroccan architecture with artistic decoration and unique crafts of the region. This former residence has a large patio opening onto a living area of classic Moroccan decoration, a dining room, a large fireplace, a central fountain and distributed eight beautiful rooms.
Casa Hassan has an incredible terrace with beautiful views of the town and a traditional hammam open for its guests. Sited in a very atmospheric street with some of Morocco's most friendly inhabitants, Casa Hassan welcomes its guests with a warm and magical stay.
Cheapest Hotels in Chefchaouen:
If you are travelling on a budget, you should be please to know that one of the good things about Chefchaouen is that it is not an expensive town. You will be able to easily find lots of cheap hotels where you can stay on a budget and many budget hotels as well. Here is our comprehensive list of some of the cheap hotels and cheap hotels in Chefchaouen.
1- Hotel Asmara:
The location of Hotel Asmara is perfect. It is sited next to the gates of the old medina and right next to a square where you can find fruit and vegetable local market and some restaurants. In the square next to the hotel, you can taste a nice breakfast with the locals in the morning.
Even though Hotel Asmara is located in the heart of the town, it is very quiet at night and you will have great nights of sleep. The hotel offers cosy beds and if comfort is a priority for you, this hotel is a special treat!
2- Hostel Aline:
Although Hostel Aline is super cheap, it is still very nice and definitely provides good value for your money. The hostel is located outside the old medina and next to the hills offering a quiet stay and beautiful views of the entire town.
Hostel Aline offers very comfortable bunk beds, lots of electrical outlets to charge all of your electronic devices and a beautiful rooftop terrace where can meet other travellers and backpackers from all over the world. The staff that works at the hostel are super friendly and helpful. They will give you tons of local tips and suggestions about things to do in Chefchaouen.
3- Hotel Souika:
Located in the centre of the old medina, Hotel Souika is a perfect place to base yourself to explore the medina. This is probably one of the most popular hostels in Chefchaouen. It offers a selection of rooms that are huge and super clean with a private bathroom and a very nice warm shower.
Hotel Souika is the cheapest hostel in Chefchaouen and has several dorm rooms as private rooms. It has a big common kitchen where you can prepare your own food to save money, but you can also buy delicious breakfast on the spot every morning. Hotel Souika has a fantastic rooftop terrace from which you have splendid views of the city and the Rif Mountains.
4- Hostel Mauritania:
If you are travelling to Chefchaouen by bus, this hostel will be perfect for you as its just a 15-minute walk from the bus station. The building is incredible, entirely painted in various shades of blue inside and out. Although this is a cheap hostel, its architecture and central light makes it reminiscent of a riad.
The hostel offers clean cosy rooms and a terrace with gorgeous views of the surrounding hills and old town. Hostel Mauritania is located near the main square and the local market, and restaurants are easily in reach within minutes.
5- Hotel al Kasbah:
Hotel Al Kasbah is probably in the perfect location anyone could as for. It is located right next to Plaza Uta El-Hammam, the vibrant heart of the blue town. This square is full of local restaurants and little cafés where you can savour traditional Moroccan dishes and enjoy a relaxing glass of tea while taking in the local atmosphere of the plaza.
It is also next to the old Kasbah so it is the ideal location if you wish to be in the centre of all the interesting attractions of Chefchaouen. This place is super clean, the rooms are cosy and they serve excellent breakfast every morning.
6- Dar Antonio:
Dar Antonio is an exquisite little place with lots of character that will charm you. It offers a selection of small but very cosy rooms decorated with different shades of blue. The main area has lush plants and flowers that add to the charm of the hostel.
This budget hostel is located on the way towards the old Spanish Mosque and is the perfect place to base yourself to explore the narrow streets of the old medina and Chefchaouen.
Chefchaouen Travel Guide Closing Notes: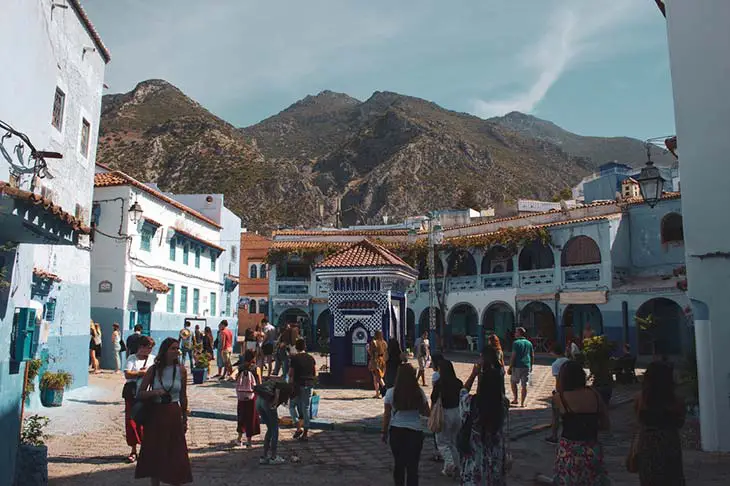 Have you been to Chefchaouen before? Did you enjoy your time in Chefchaouen? Let me know – I would love to hear from you!
Chefchaouen is one of the most charming towns in Morocco. Your visit to Chefchaouen will exceed your expectations. The blue city offers delicious food, friendly authentic locals and of course the adorable playful cats. You won't want to miss Chefchaouen in your Morocco itinerary! I
hope that this article helps you plan your itinerary in Morocco. If you think that we missed anything in our Chefchaouen travel guide or if you have any questions, please don't hesitate to contact us. We would love to hear from you!