Where to Eat in Chefchaouen : Enchanting Authenticity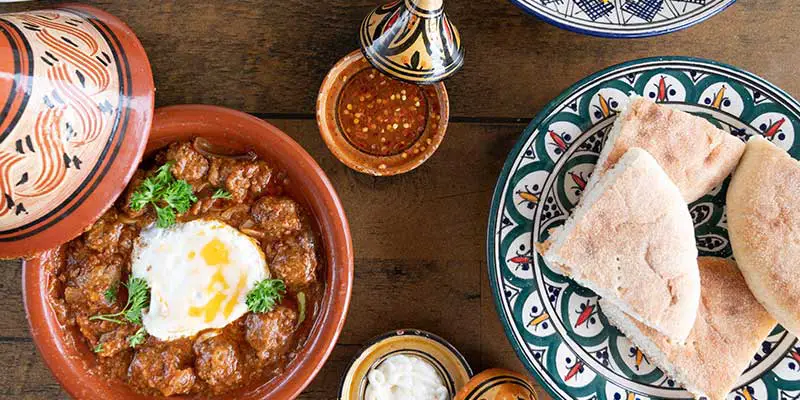 About Chefchaouen:
If you are planning a visit to Morocco's blue city, you will need to know the best restaurants in Chefchaouen. The blue city is easily one of the most popular destinations in Morocco, an enchanting town where every building is completely painted blue. A holiday in Morocco is not complete without a visit to Chefchaouen. So to help you make the best of your time in this town, here are recommendations for you on where to eat in Chefchaouen!
Here are our picks for where to eat in Chefchaouen:
1- Restaurant Casa Aladdin: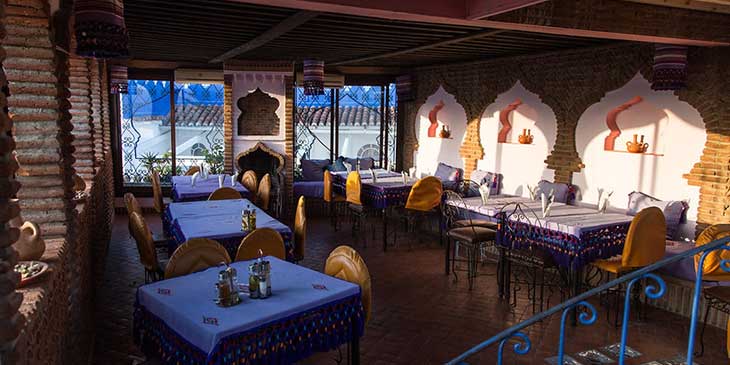 Restaurant Casa Aladdin is one of the most popular restaurants in Chefchaouen. Situated at the Northeast side of the main square, you will find this beautiful multi-story restaurant that offers splendid views of the blue town and offer some of the most delicious traditional Moroccan dishes.
This restaurant offers you a wide selection of traditional Moroccan dishes – from kofta to all kinds of tagines and couscous – all at very affordable prices.
While the Casa Aladdin Restaurant interior is decorated by a beautiful mixture of Arabian and Spanish style, the roof terrace offers incredible panoramic views of the lively main square of the medina, where you can hear traditional music, smell the fresh air of the Rif Mountain, and stacks of the medina's houses' in varying shades of blue.
Casa Aladdin is one of the loveliest places to eat in Chefchaouen!
When to Go: Perfect for lunch
What to Order: We recommend the couscous or tagine
2- Café Clock Restaurant: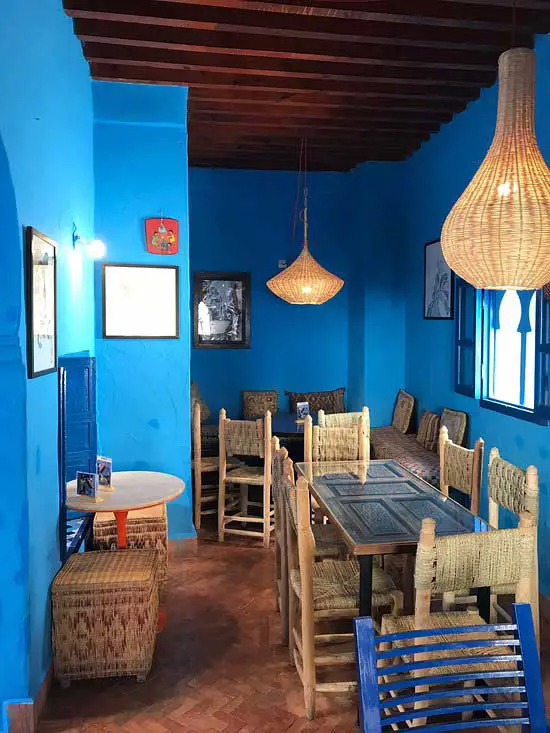 Owner by British Mike Richardson, Café Clock knows what its visitors want. From their signature camel burgers for the foodie's explorer, refreshing salads and orange juice for the health-conscious to cappuccinos for the proper Italian-style enthusiasts.
The Chefchaouen restaurant is four stories and offers beautiful uninterrupted views of the town from its rooftop terrace. Café Clock is the perfect spot for lunch in Chefchaouen. In addition to camel burgers, they also offer roasted chicken with lentils, a Chaouen special dish.
For vegetarian travelers, Café Clock offers a wide range of Moroccan dishes; from vegetable Bastilla, gazpacho, and Moroccan salad with goat cheese and Ras el Hangout, a Moroccan spice with up to 45 ingredients.
The spectacular rooftop offers beautiful views, overlooks the medina, and makes for a perfect place to relax on a Moroccan mint tea while enjoying the sunset. On the other hand, the middle floor is cozy, perfect for dinner, and offers Andalusian live music and storytelling.
When to Go: Perfect for lunch and dinner
What to Order: We recommend the camel burger
3- Lala Mesouda: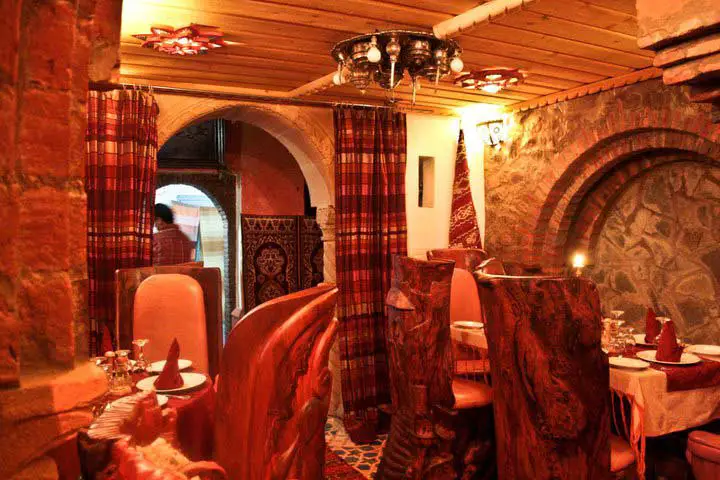 If you fancy homemade Moroccan cuisine, it doesn't get any better in Chefchaouen than Said Bakkali's tucked away gem along the upper slopes of the medina. In addition to the exquisitely prepared tagines and Frida couscous, the chefs at Lala Mesouda's specialties focus more on traditional Moroccan cuisine served at home.
The menu includes Moroccan salads such as Baqula, a cooked, spinach-like green, and Zalouk as well as Sferjal, quince, and beef, and ox penis, slow-cooked for the adventurous foodie.
When to Go: Perfect for lunch
What to Order: We recommend the camel burger
4- Pizzeria Mandala: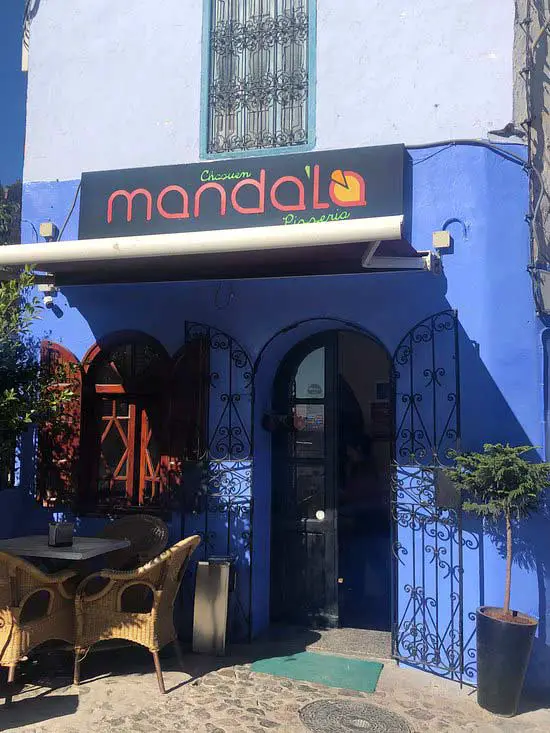 If you are looking to try a taste of Italian cuisine in the heart of the blue city, this is the perfect place to go. Pizzeria Mandala offers an exclusive menu of Italian favorites which offer an alternative to traditional Moroccan dishes.
Based near the famous square of the city, Outa Hammam, guests can choose from a wide selection of pizzas and pasta, as well as salads and a small menu of meat, featuring hamburgers and chicken dishes. They offer a mouthwatering dessert menu of fresh fruit, ice cream, and chocolate fondu which complements their delicious dishes.
When to Go: Perfect for lunch
What to Order: We recommend the
5- El Kasbah Restaurant:
Al Kasbah restaurant is unique and worth visiting purely for its beautiful interior decoration. The exterior of the kasbah is painted blue and has beautiful wood and nice plants on the outside. Guest can choose to eat inside the dining room which is decorated and has an authentic ambiance.
Alternatively, you can choose to dine on the rooftop terrace to appreciate the enchanting exteriors overlooking the town. with a perfect location, the Kasbah restaurant offers some of the most delicious Moroccan dishes at decent prices.
When to Go: Perfect for lunch
What to Order:
6- Casa Hassan Chefchaouen: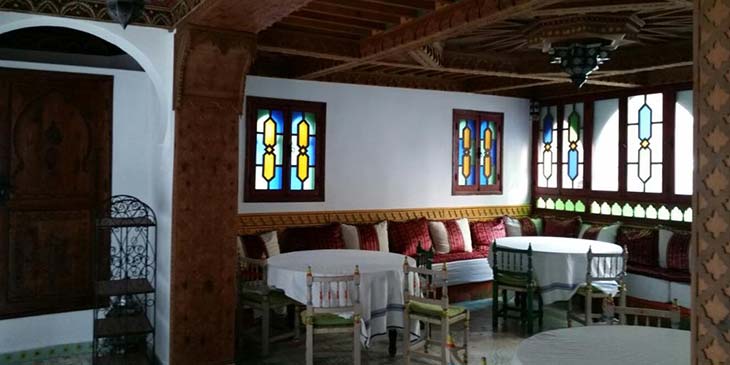 The Chaouen restaurant inside the Casa Hassan is split into several fine dining rooms painted in different shades of blue with a cheerful and bright ambiance.
The restaurant has a panoramic terrace which makes it perfect for lunch and welcoming on chilly evenings when the fire roars and warms the bones and the open kitchen allows the guest to witness the chefs at work and choose from a selection of all sorts of tagines.
The menu includes traditional Moroccan fare with a special touch. Fresh goat-cheese salad, a local pastilla are just a few delights from the menu. There are also daily specials including Moroccan salad and soup, main, and dessert.
The indoor seating is not smoking, but adding a certain smokiness to the saffron-scented chicken and lemon deliciousness smells adds to the experience.
When to Go: Perfect for lunch and dinner
What to Order: We recommend the tagine or pastilla
7- Restaurant DarCom: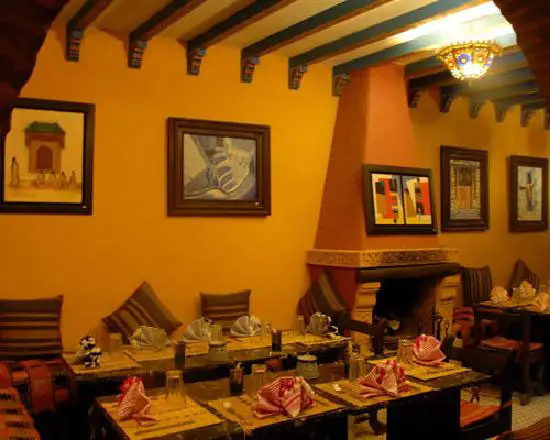 Vegetarian travelers in Morocco will be delighted to find this restaurant. This place offers a wide range of vegetarian treats. Start off with a Moroccan salad, a typical four veggie dish that includes olive, split pea soup, aubergine. Savor a dish of couscous either with seven vegetables or caramelized with sweet onion and topped with peanuts that can satisfy your hunger. Finish off with a light dessert of sliced fresh orange sprinkled with sugar and cinnamon.
The restaurant has a romantic ambiance with little artisanal details that characterize its setting. Dar Com has two indoor levels of seating that guests can choose from, which is perfect for a cozy and relaxed evening dinner. It also has two roof-top terraces that offer beautiful views of the town and are perfect to taste a glass of Moroccan mint tea while enjoying the spectacular sunset.
8- Auberge Dar Dara: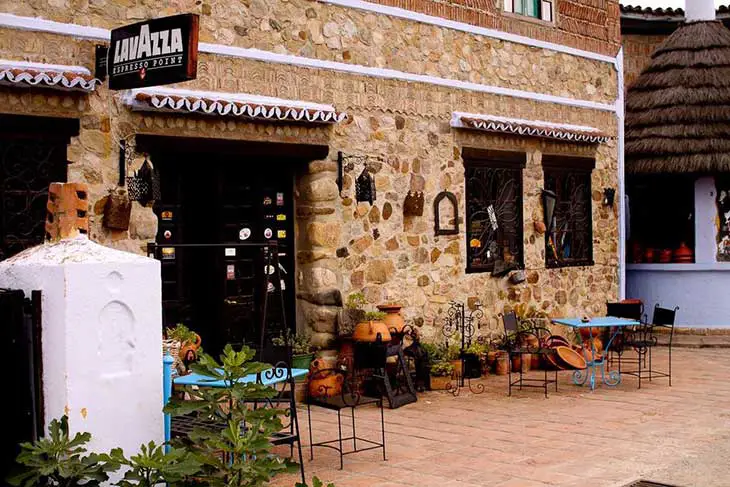 Nested in the rural area of the Rif Mountains, restaurant Dar Dara is a pleasant charming auberge that offers its guests a refreshing and relaxing escape where they can tuck into delicious local cuisine and Moroccan culinary which showcase tasty homemade dishes. Favorite of Moroccans and is on the bucket list of many foreign travelers, auberge Dar Dara is a place where visitors can taste top-notch Moroccan cuisine. From Chefchaouen traditional Bisara to goat cheese salad, Eggplant caviar, grilled rabbit, to all sorts of tagines, every bite offers a perfect taste.
In order to produce fresh meals, Jaber, the owner of the hotel restaurant, is the head of the kitchen and is always on-site to supervise. The restaurant uses products from its garden and its surrounding villages. The auberge also offers overnight stays in Berber-style decorated rooms, cooking classes, and team-building activities. Dar Dara auberge is one of the best places to eat around Chefchaouen.
When to Go: Perfect for lunch
What to Order: We recommend the goat tajine to bissara