Essential Tips for Perfect Sahara Desert Tours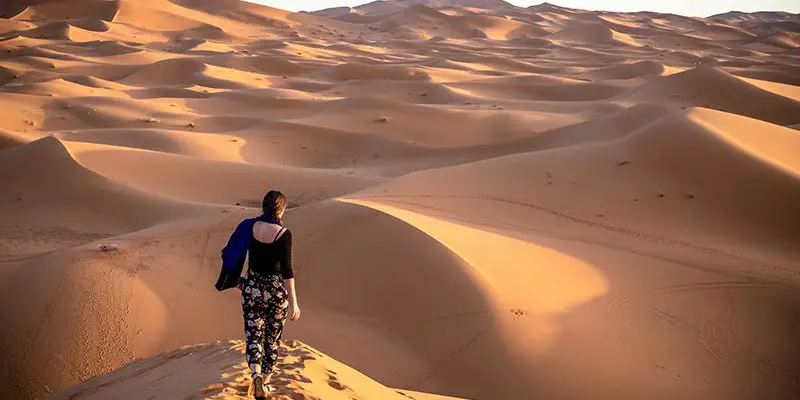 Going on Sahara desert tours to ride camels and sleep under the stars in a nomad tent in the Sahara Desert is an incredible experience that is on everyone's bucket list. In fact, many travelers visit Morocco with a specific intention to visit the desert and spend a night or two under the stars.
Running along Morocco's eastern border with Algeria, the Sahara Desert is the largest hot desert in the world, covering about 4800 km of the continent of Africa. On this blog, we will cover the top 10 things you should know before going on a Sahara desert tour.
1- You can't do a Sahara desert tour on a Day Trip:
The distance from Marrakech to Merzouga, the gate of the desert, is 360 miles or about 580 km while Marrakech to Erg Chigaga Dunes is 260 km. Driving through the Atlas Mountains take almost half of the drive distance, as a result, you will not be able to reach the Sahara desert in a one-day trip from Marrakech.
To go on a Marrakech desert trip to the Sahara Desert, you will need at least three days. Here is our 3 day Marrakech desert tour to erg Chebbi dunes and  Erg Chigaga desert tours from Marrakech 3 days. For the traveler with limited time, who wishes to ride camels, watch the sunset and sleep in a nomad tent, you can go on a 2 days desert trip to the Zagora dunes, which the ideal option.
2- Book your Sahara desert tour with a reputable tour agency:
A wrong belief that you of travelers adhere to is that instead of booking their desert trip in advance online with a reputable travel agency or a tour company, they wait to receive offers in the souks to get a cheaper price. Well, the thing is, you might get a cheaper price, but that does not mean you will get a better deal.
You are more likely to make up for that price difference somewhere, either with poor services, through scams, upsells, or forced shopping along the trip. Rather, I would highly recommend booking your Sahara desert tour in advance with a trustworthy and reputable company.
Simply, a company with a strong reputation will be more professional, cut the middle man, and in case anything wrong happens, you have someone to blame. As a legitimate tour company with licensed guides and drivers and expertise of a decade, we recommend browsing our carefully crafted Sahara desert tours to experience the true Sahara safari.
We offer the option of a 3 days desert tour from Marrakech to Erg Chebbi dunes or Erg Chigaga dunes and back or the option to go onward to Fes after your trip instead of returning to Marrakech, which you can find here.
3- How many days should spend on my Sahara desert tour?
Well, if you are on a limited budget or you have limited time, the best option will be to spend one night in the desert in a three days desert tour from Marrakech. Otherwise, the ideal option that we recommend will be to spend two nights in the Sahara Desert.
With two nights, you will be able to explore the desert at a relaxed pace and fully immerse yourself in the nomadic culture and the tribes' lifestyle. Spend your days sand-boarding, camel trekking, climb the dunes, and visit the nomad in their house and have a glass of tea with them.
Enjoy an evening of music and dance to Berber drumming under the shiny stars, and sleep in a nomad tent at the foot of the dunes. You can spend two nights in the desert in one of our Marrakech desert tours either to the famous Erg Chebbi Dunes or the wild Erg Chigaga Dunes in the remote Sahara Desert.
4- Erg Chebbi Merzouga or Erg Chegaga Dunes?

Even though Morocco is home to four main desert dunes, namely, Erg Chebbi Dunes, Zagora Dunes, Erg Lihoudi Dunes, and Erg Chigaga, the two main dunes that travelers visit the most to explore the Sahara Desert are Erg Chebbi Dunes and Erg Chegaga.
The most famous and touristic destination is the Erg Chebbi Dunes as it is easily accessible with a 30 min camel ride into the desert camps and well-equipped with modern hotels and luxury desert camps.
On the other hand, the Erg Chigaga Dunes offer a more wild adventure and are perfect for those who wish to visit the wild Great Sahara. Located 65 km from the nearest paved road, there is a 2 hours off-road drive in 4×4 through the Sahara Desert to get to these dunes.
Both dunes, however, offer camel rides, climb dunes and watch the sunset and sunrise, Berber music under the stars, and overnight in authentic nomad tents with the option to upgrade to luxury. Both dunes require at least a 3-day tour.
5- What do I need to prepare for my Sahra Desert Tour?
If you are heading on a Sahara desert tour, there are some desert trip essentials that you need to have in your packing list These are the following:
A windbreaker or a warm jacket to keep you warm in the cooler nights and mornings of the desert, so you can catch the sunrise and the sunset.
Appropriate shoes for hiking in the gorges and the mountains, for the desert you can go barefooted.
Comfortable pants to make sure you can ride camels and climb the dunes freely.
Sunglasses and headscarves (turbans) to protect your eyes from the strong sun in the regions of the south and the dust and sun of the desert.
A flashlight to use at night at the campsite.
Enough medications that can cover an extra day or two. As you know, there are no pharmacies in the desert.
6- Be prepared for long hours drives.
As the Sahara desert runs along the border with Algeria, you should be aware that you are traveling from the center of the country to the eastern side. You will drive for about 6 to 7 hours per day.
Most of the drive hours are spent ascending and descending the Atlas Mountains where the road is quite difficult and is under construction.
There will be stops along the way for photos, visits, breaks, and toilets. In the Atas Mountains and the Dades Gorges, the views are simply beautiful and breathtaking, so keep your camera ready to snap some shots, as you will stop at panoramic viewpoints.
Another stop that you can look forward to is your visit to the UNESCO World Heritage Site, Kasbah Ait Ben Haddou. A backdrop that set the scene for many Hollywood movies including the famous TV series "Game of Thrones". If you have limited time, you will need 3 days minimum to visit the real Sahara Desert.
7- What can I do in the Sahara Desert?
Even though most travelers visit the Sahara Desert to ride camels and sleep in nomad tents, you will be surprised at how many activities and entertainments are waiting for you when you go on a Sahara Desert tour.
Besides riding camels as your means of transportation to explore the great Sahara Desert, Quad-biking can be a good choice for mechanic sports enthusiasts. This is a great way to dive a little deep into the dunes and the Sahara.
Hunt for fossils. The regions of the south are rich in fossils as there are plenty of areas such as Rissani and Eriki Lake that are quite famous for fossils enthusiasts.
Visit Khamlia and listen to Gnawa music. Although Gnawa is more famous in Essaouira, the desert is also home the Gnawa music. Take half a day to visit the town of Khamlia to listen to Gnawa music.
Explore the golden dunes. whether taking a walk, riding camels, or taking a ride around the dunes in a 4×4, the dunes are such an amazing setting that is waiting for you to explore.
Visit Rissani and shop in the local market. Rissani is the largest village before Merzouga.
Visit the nomad either in their cave or house to have a glass of tea with them and explore the local life in the desert.
8- Going on a group or a private Sahara Desert tour:
The choice to travel in a group or a private trip is based on personal preference. If you wish to travel with a group, many travel agencies organize group trips and tours. However, you should note that the trip is usually done in a mini-van with only a driver and no guide.
There will be no opportunities for off-road driving and you can not drive into the camp, but instead, you will be taken by a camel caravan. The stops along the way are scheduled in advance and limited. The pros are that traveling in a group tour can be more affordable and more suitable for solo travelers. Traveling on a private desert tour, on the other hand, can cost a little more.
The pros are that you can stop along the way whenever you wish for photos and visits and do off-road driving. You can go to the camp in a 4×4 car. Of course, a private trip is more personal and more intimate. It is suitable for couples and families.
9- What is the best time to go on a Sahara desert tour?
The best time to go on Sahara desert tours depends on many factors. As far as the temperature is concerned, The best time to visit the desert will be between May and October. This is the time of the year when the daytime temperature is convenient.
During December and January, the temperature drops below freezing, and sandstorms are more frequent. Between June and September, the weather can be hot with July and August daytime being the highest often crossing 50 degrees celsius.
From a high season and low season perspective, the high seasons are from late February to late April and from September to late December after new year's eve. If you wish to come to Morocco in the low season, you can choose any month but these.
10- Does On Morocco Tours organize Sahara desert tours?
Yes, we do! We offer a variety of private tours that can be customized to fit your needs and special points of interest. Our tour a carefully crafted to fit almost any traveler's style. They are organized into categories starting from each of the major cities.
Browse our Sahara desert tours. Or contact our friendly team of experts to help you plan your Sahara desert tour.