What to Pack for a Desert Trip in Morocco?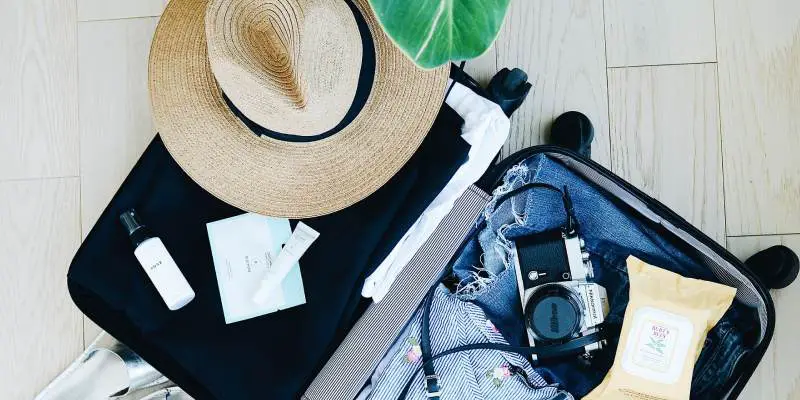 One of the major highlights of every holiday in Morocco is a Sahara Desert trip. It is a wonderful experience to enjoy a camel ride to the top of the dunes to watch the sunset, to dance to Berber music around a campfire in a chilly evening under the shiny stars, and to sleep in a nomad tent at the foothill of the dune. The peacefulness of this rough but beautiful environment, the sun shining above your head and the hot sand dunes below your feet all make this an experience of a lifetime.
However, if you are not equipped with the right items or at least the essential items, it would be difficult to enjoy this wonderful experience to the fullest. So, to help you pack the right things in your bag, we have put together this list of 10 items to carry for Sahara Desert trips.
1. Water
This is a no-brainer; it probably goes without saying that the most important thing that should appear on top of your packing list is water. Since the likelihood of getting dehydrated during the hot days of the desert, it is essential to carry plenty of water. An additional backup supply in your vehicle is also a good safety measure.
2. Sunscreen
It is undeniable that during the time that you will spend in the desert, your skin will be exposed to the sun almost constantly. So, to avoid the risk of sunburn, make sure you bring lots of sunscreens and share it with those who have forgotten to pack it. Equally, make sure you get some sunblock for your lips, which are sensitive and are more prone to burning.
3. Wide Hat
Because in your Sahara Desert trip, you will be out in the sun all day, you will need a hat that provides protection for your head against the rough weather of the desert. Your everyday cap won't do. So, make sure to pack a wide hat; the wider, the better for protecting your eyes from the sunlight and your neck from sunburn.
4. Sunglasses
Just like the sunscreen and the wide hat suggests, a pair of really good sunglasses can make a huge difference when it comes to Sahara Desert trips. You wouldn't like to return from a desert trip and start having problems with your eyes, so make the investment and protect your eyes.
5. Clothes
To keep it short, a typical Sahara Desert trip gear in Morocco would be jeans to protect your legs riding camels, a warm jacket for the chilly and cold evenings in the desert, comfortable walking shoes, and scarves or turbans to cover your face in case the weather got stormy.
6. Toiletries
Just because you are going on a trip to the desert, you shouldn't abandon your regular hygiene routine. Make sure you take all the necessary toiletries with you including face wash, toothbrush, toothpaste, shampoo, comb, body wash, body lotion, etc.
7. A Small Flashlight
It is true that you are going to spend the night in a pre-installed desert camp that is equipped with almost everything that you will need. But it will be a great essential to have a small flashlight to help you navigate around the camp at night in case you want to watch the shiny stars or for any other reason. So, make sure you get one.
8. Travel First Aid Kit
A travel first aid kit is one of those must-have items that should be included in your packing list if you are jetting on a trip to the desert. Since such trips are liable to a few unexpected circumstances, especially on your health. Whether it is a little cut, a twisted ankle, or a minor headache pain, having a travel first aid kit will help.
9. GPS or MAPS
It would be an unwise decision to wonder the Sahara Desert without a tool to help you navigate such an environment. Having applications such as Google Maps will be an ideal option as long as you can access the internet, but it is advised to equipped for offline and service failures which are very likely in the desert. In my opinion, the best option will be to hire a local guide.
10. Powerback
As you may already know, you are most likely to be out of electricity for a day or two. So, bring a power bank to charge anything that you may need to overnight as the camp may or may not have electricity.
Now that you know what to carry for a desert trip in Morocco, here is a handy checklist that tells exactly what to pack for different holidays.
Now that you know what to pack for your Sahara desert trips, don't hesitate to contact us at  On Morocco Tours. We will be pleased to assist you.