Top 10 Things to not Do in Marrakech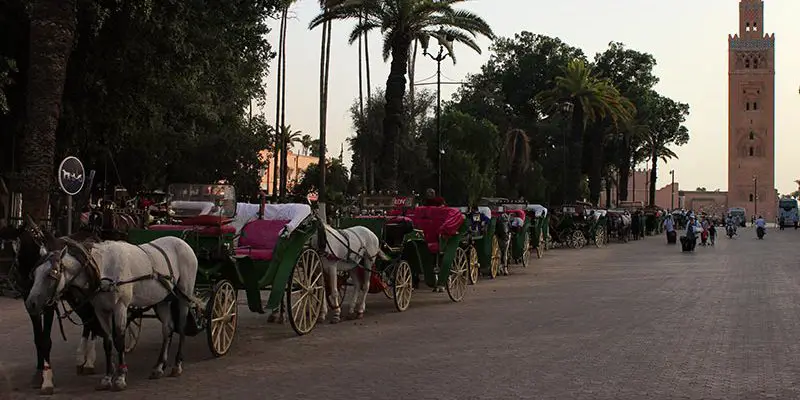 A trip to Marrakesh is a sensory overload of exotic sights, sounds, smells, and tastes. If you're heading to this Moroccan hotspot, keep a few do's and don'ts in mind to help minimize the inevitable overwhelm. Here are 10 things to not do in Marrakech.
1. Don't Get Taken by a Street Guide
You will be confronted by an assortment of friendly, helpful locals eager to escort you somewhere. However, the majority are opportunistic hustlers. It's better to avoid engaging these street guides, as they can be persistent and intimidating.
2. Don't Get Fleeced by a Taxi Driver
There are many drivers overcharging tourists with off-the-meter fees. You need to appear confident and savvy when you get in a taxi. You don't want to seem rude or imply that you assume they're distrustful, but if you're too soft, this "taxi mafia" will fleece you.
3. Don't Pay the First Price Offered
The number 3 tip on our 10 things to not do in Marrakech is do not to pay the first price offered. Merchants expect a negotiation, so brush up on your bargaining skills and have fun with it. Don't be too penny-pinching about this game, though. Remember, the few extra dirhams probably mean more to the merchant than you.
4. Don't Wear Babouche on a Busy Walking Day
One of the must-buy in the Marrakesh souks are the colorful traditional Moroccan slippers, called babouche. They take a few wears to stretch to your foot and become comfortable. So it's not a good idea to wear a brand new pair on a heavy day.
5. Don't Feed the Snake Charmers
You'll find a snake wrapped around your neck and they'll demand payment to remove it or encourage you to take a picture. Once you take it, the fee demanded can be unreasonable. Try not to engage these snake charmers or be prepared for some aggressive sales tactics.
6. Don't Shop Without Change
While there are ATMs around Marrakesh and credit cards are used at the finer hotels and restaurants, this is mostly a cash culture. Keep change on you, as one of the typical sales ploys with souk merchants and taxi drivers is the "sorry, I don't have change" trick.
7. Don't Forget You're in a Muslim Country
It is essential to conduct yourself with respect to the host culture. No one is asking you to wear a headscarf or partake in Islamic rituals. Morocco is pretty moderate. However, it is wise to dress conservatively. Women, especially, should keep this in mind so as not to invite unwanted sexual harassment.
8. Don't Leave the Immigration Paperwork to the Last Minute
Just be aware that you'll have to fill out immigration forms both on arrival and departure. The paperwork is nothing complicated, but immigration queues can be long at this relatively small airport, so complete your paperwork in advance.
9. Don't Forget to Learn a Little French or Arabic
Take the time to learn some key phrases in French or Arabic before arriving. Pleasantries go a long way in putting people at ease. Most will be impressed with any attempt you make in their language. So google some basics before you go.
10. Don't Let Your Guard Down
The last tip on our 10 things to not Do in Marrakech list is don't let your guard down. Wandering around the streets, squares, and dizzying lanes of the medina of Marrakech take some guts, and you'll want to have your wits about you at all times. The hustle and bustle of street life can be overwhelming to the uninitiated. It's important to schedule some downtime each day to relax such as treating yourself to a hammam cleanse.
We have created an incredible selection of day trips and desert tours from Marrakech that you can book now. Contact us today to find the desert tour or day trip that is right for you.