Best places to stay in Chefchaouen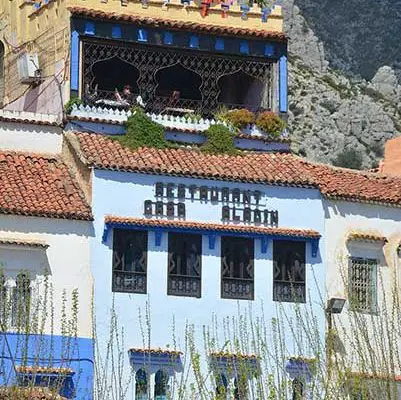 Where to Stay in Chefchaouen:
The blue city of Morocco could easily claim the title of the most gorgeous town in Morocco. It is one of the prettiest cities that you will visit in the country and that is because of its beautiful blue shades, its unspoiled authenticity, and the incredible landscapes of its surrounding areas.
If you are looking to stay in Chefchaouen, you would be delighted to know that most of the hotels and riads in Chefchaouen are highly affordable. In fact, there are no luxury hotels in Chefchaouen!
Chefchaouen Travel Guide Pro Tip: It is important to note that not all of the town is painted blue, just the medina area. Therefore, if you wish to stay in the blue area, you will have to choose a location within the medina. Also, please note that the medina is a car-free zone and you will be hiking your luggage with you to the hotel. I recommend you ask your guesthouse owner to send someone to help with your luggage and guide you through it.
So, what are the best places to stay in Chefchaouen? Read our comprehensive list that covers some of the places to stay in the blue town of Morocco.
Best Hotels in Chefchaouen:
Like all other cities in Morocco, the best accommodations to stay in Chefchaouen are riads. The blue city is filled with beautiful little guesthouses that offer an authentic Moroccan stay. Most of the riads in Chefchaouen have been converted from hundred-year-old homes of the city's rich class to boutique hotels with a unique look and interesting history and offer an incredible stay. Here are our Chefchaouen travel guide hand-picked places to stay:
1- Lina Ryad & Spa Hotel: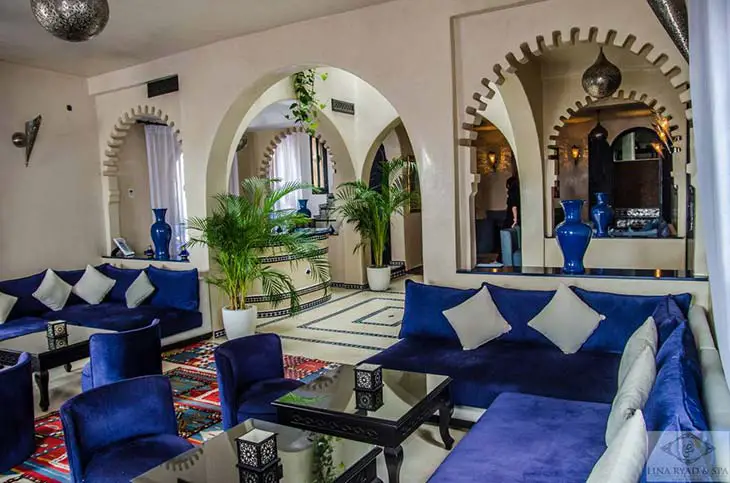 This classy and elegant riad is perfectly located at the heart of the blue-washed medina. It is ideally positioned for visitors who wish to spend some time exploring the medina and discovering the area's attractions. Its rooftop terrace offers magnificent views and the onsite spa centre has an indoor private pool, a traditional Moroccan hammam and a Jacuzzi hot tub.
With beautiful views of the Rif Mountains and the blue-painted medina, Lina Ryad is a boutique of suites that are elegantly decorated with Moroccan modern design and a beautiful combination of shades of white, which is complemented with the blue shades of the town. Every room in the hotel has a private shower and top-end mattresses.
2- Casa Perleta: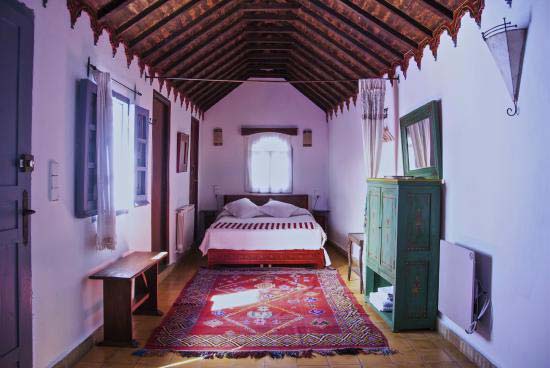 Casa Perleta is a traditional guesthouse located near the Bab Souk entrance of the medina. While the blue Andalusian rooms are small, they are comfortable and decorated with locally made textiles, fine paintings and beautiful furniture. This boutique has a small terrace that makes for a great spot to catch the sunset or read a book.
Make sure to book early because this popular place doesn't have many rooms! Begona, the riad manager, is super friendly and full of energy with tips on where to eat and the best places to shop for local crafts and souvenirs to take with you home as gifts.
3- Dar Echchaouen: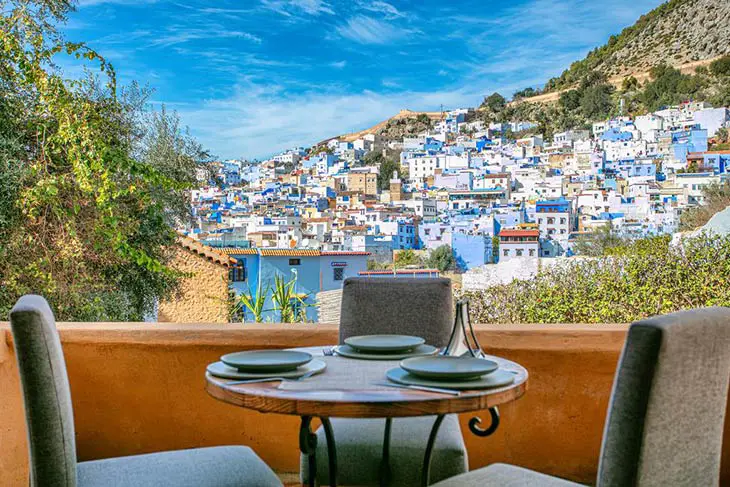 Located right outside the medina near the River "Ras El Ma", Dar Echchaouen is a perfect place to relax and enjoy the quality service. Characterized by its gorgeous blend of traditional Moroccan architecture and modern comfort, this funky hotel boutique has 12 rooms and suites that are decorated with a mixture of Arab and Hispanic styles.
Beautifully ducked in bright shades of white colours and soft fabrics and decorated with local paintings from the local market, Dar Echchaouen is a perfect place to experience Moroccan culture.
4- Dar Meziana: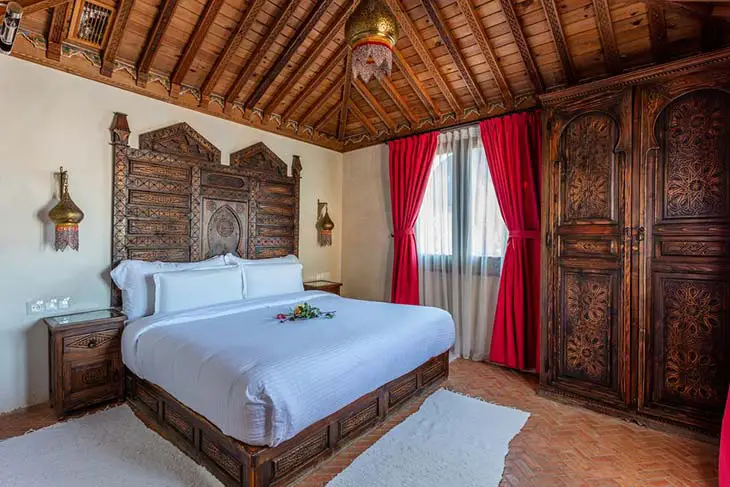 Sited at the end of a delightful, steep cobbled street, this small rustic bed and breakfast guesthouse is an example of old traditional places to stay in the Chefchaouen. Even though a bit old-dated, Dar Meziana is a traditional Moroccan riad decorated with authentic furniture of Chefchaouen, beautiful paintings, and fascinating art décor.
Designed in Andalusian, Moroccan style, Dar Meziana offers cosy rooms, a pretty courtyard dining area, and a beautiful roof terrace overlooking the town, perfect for relaxing and catching the sunset. If you are looking for a unique place to spend the night in Chefchaouen, this guesthouse is a real treat!
5- Casa Hassan: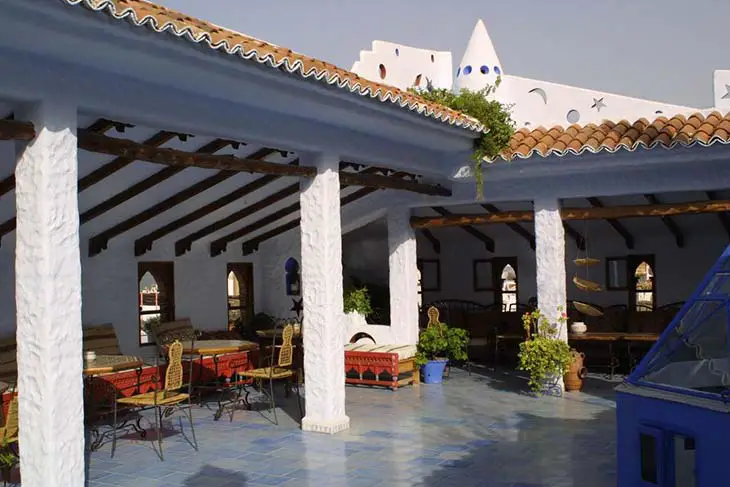 In this authentic and touristy town, perched on top of the hill and sited in the heart of the medina, there is an exceptional guesthouse, Casa Hassan. A charming riad of traditional Moroccan architecture with artistic decoration and unique crafts of the region. This former residence has a large patio opening onto a living area of classic Moroccan decoration, a dining room, a large fireplace, a central fountain, and distributed eight beautiful rooms.
Casa Hassan has an incredible terrace with beautiful views of the town and a traditional hammam open for its guests. Sited in a very atmospheric street with some of Morocco's most friendly inhabitants, Casa Hassan welcomes its guests with a warm and magical stay.
Cheap Hostels in Chefchaouen:
If you are travelling on a budget, you should be pleased to know that one of the good things about Chefchaouen is that it is not an expensive town. You will be able to easily find lots of cheap hotels where you can stay on a budget and many budget hotels as well. Here is our comprehensive list of some of the cheap hotels and cheap hotels in Chefchaouen.
1- Hotel Asmara:
The location of Hotel Asmara is perfect. It is situated next to the gates of the old medina and right next to a square where you can find a fruit and vegetable local market and some restaurants. In the square next to the hotel, you can taste a nice breakfast with the locals in the morning.
Even though Hotel Asmara is located in the heart of the town, it is very quiet at night and you will have great nights of sleep. The hotel offers cosy beds and if comfort is a priority for you, this hotel is a special treat!
2- Hostel Aline:
Although Hostel Aline is super cheap, it is still very nice and definitely provides good value for your money. The hostel is located outside the old medina and next to the hills offering a quiet stay and beautiful views of the entire town.
Hostel Aline offers very comfortable bunk beds, lots of electrical outlets to charge all of your electronic devices and a beautiful rooftop terrace where can meet other travellers and backpackers from all over the world. The staff that works at the hostel are super friendly and helpful. They will give you tons of local tips and suggestions about things to do in Chefchaouen.
3- Hotel Souika:
Located in the centre of the old medina, Hotel Souika is a perfect place to base yourself to explore the medina. This is probably one of the most popular hostels in Chefchaouen. It offers a selection of rooms that are huge and super clean with a private bathroom and a very nice warm shower.
Hotel Souika is the cheapest hostel in Chefchaouen and has several dorm rooms as private rooms. It has a big common kitchen where you can prepare your own food to save money, but you can also buy a delicious breakfast on the spot every morning. Hotel Souika has a fantastic rooftop terrace from which you have splendid views of the city and the Rif Mountains.
4- Hostel Mauritania:
If you are travelling to Chefchaouen by bus, this hostel will be perfect for you as it's just a 15-minute walk from the bus station. The building is incredible, entirely painted in various shades of blue inside and out. Although this is a cheap hostel, its architecture and central light make it reminiscent of a riad.
The hostel offers clean cosy rooms and a terrace with gorgeous views of the surrounding hills and old town. Hostel Mauritania is located near the main square and the local market, and restaurants are easily within reach within minutes.
5- Hotel al Kasbah:
Hotel Al Kasbah is probably in the perfect location anyone could as for. It is located right next to Plaza Uta El-Hammam, the vibrant heart of the blue town. This square is full of local restaurants and little cafés where you can savour traditional Moroccan dishes and enjoy a relaxing glass of tea while taking in the local atmosphere of the plaza.
It is also next to the old Kasbah so it is the ideal location if you wish to be in the centre of all the interesting attractions of Chefchaouen. This place is super clean, the rooms are cosy and they serve excellent breakfast every morning.
6- Dar Antonio:
Dar Antonio is an exquisite little place with lots of character that will charm you. It offers a selection of small but very cozy rooms decorated with different shades of blue. The main area has lush plants and flowers that add to the charm of the hostel.
This budget hostel is located on the way towards the old Spanish Mosque and is the perfect place to base yourself to explore the narrow streets of the old medina and Chefchaouen.
Chefchaouen Travel Guide Closing Notes:
Have you been to Chefchaouen before? Did you enjoy your time in Chefchaouen? Let me know – I would love to hear from you!
Chefchaouen is one of the most charming towns in Morocco. Your visit to Chefchaouen will exceed your expectations. The blue city offers delicious food, friendly authentic locals, and of course adorable playful cats. You won't want to miss Chefchaouen in your Morocco itinerary! I
hope that this article helps you plan your itinerary in Morocco. If you think that we missed anything in our Chefchaouen travel guide or if you have any questions, please don't hesitate to contact us. We would love to hear from you!