Top 10 Reasons to Visit Morocco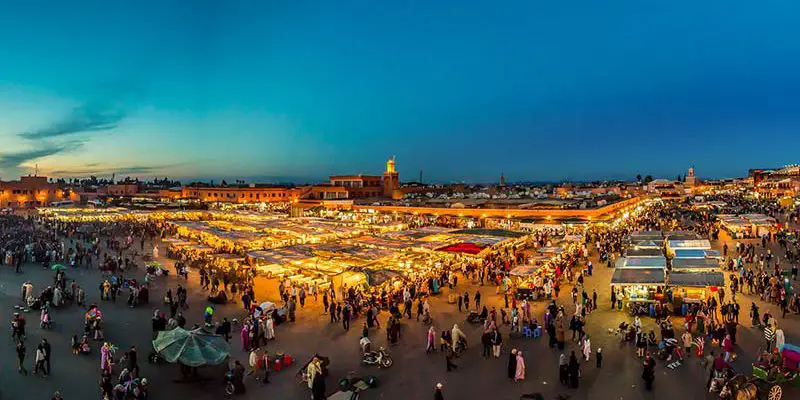 Bordering the Atlantic Coast and the Mediterranean, bound by outstretching coastline, roaring canyons, and a hint of the Sahara Desert, there are spoils of contrasting landscapes to explore, here are 10 Reasons to Visit Morocco:
1- Old imperial cities with plenty of history and character: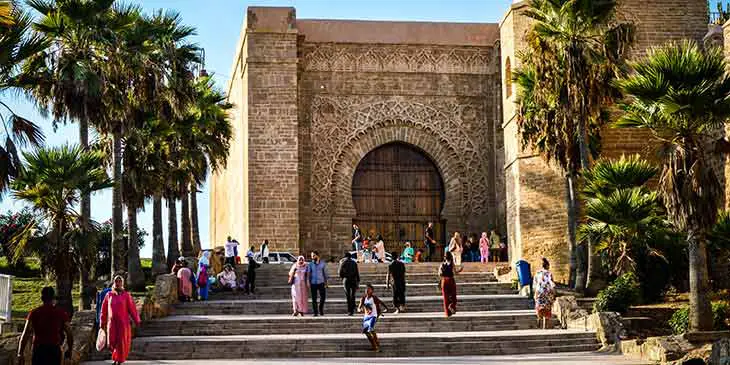 Morocco has four imperial cities: Marrakesh, Fez, Meknes, and Rabat. Rabat is the current capital city. Although a modern city at first glance, it has several interesting historical attractions, such as the Kasbah of the Ouadayas, the old medina, and the Hassan Tower.
The former capital of Fes boasts plenty of stunning architecture, though it is perhaps most known for its large tanneries and for being home to one of the oldest universities in the world.
Meknes has one of the most impressive monumental gates in all of Morocco, Bab el-Mansour. Horse-drawn carriages are a great way to explore the charming and relaxed imperial city.
2- Gorgeous beaches along the stretching coastlines: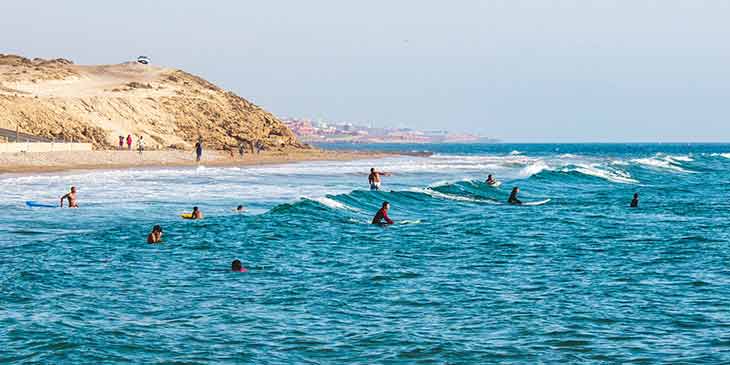 Morocco has beaches along both the Mediterranean Sea and the Atlantic Ocean. There are many lovely beaches to relax on. Popular holiday spots with foreign visitors include Tangier and Agadir, while Asilah attracts mainly locals and Spanish visitors.
Although fairly under-visited by international tourists, places like El Jadida, Oualidia see significant numbers of domestic tourists during the summer months.
The most popular beaches typically have great facilities within easy reach, and some destinations, such as Essaouira, are perfect for lovers of water sports.
3- Diverse mountain ranges appeal to fans of the outdoors: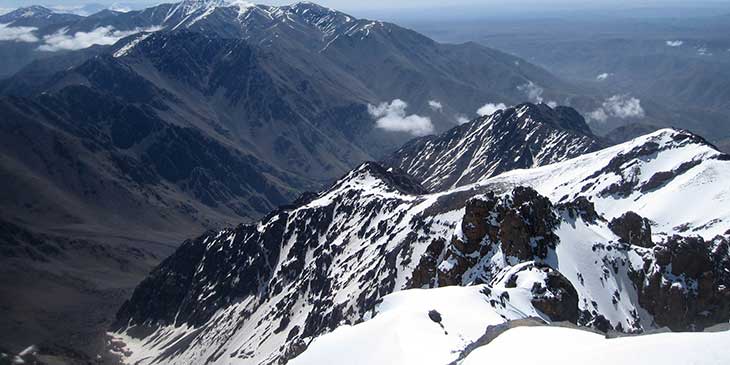 Morocco's Atlas Mountains have three separate ranges: The High Atlas, the Middle Atlas, and the Anti Atlas. Each offers a variety of hiking experiences for people of all experience and skill levels.
Jbel Toubkal is the country's highest mountain, located in the High Atlas Mountains. Easily reached from Marrakesh, the soaring giant attracts many outdoor lovers all year round.
Hiking, mountain biking, and horse riding are among the attractions people can enjoy in Morocco's mountains, as well as visiting Berber villages, bird spotting, and seeing local wildlife.
4- Easy access to the stunning Sahara Desert: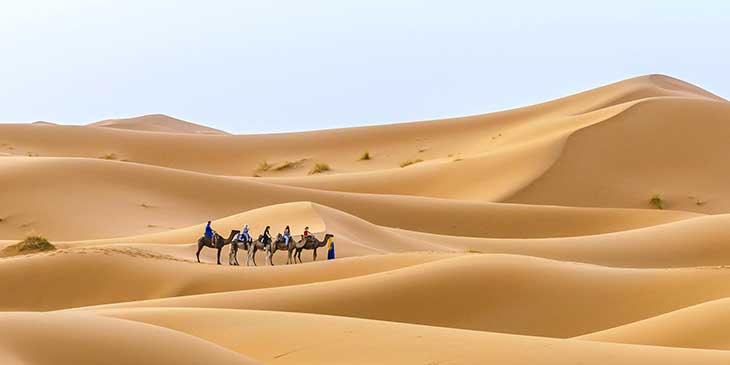 The vast and arid Sahara Desert is the world's largest hot desert. There are several places in Morocco from where you can begin expeditions into the desert tours, and there are plenty of experienced operators offering trips to remember.
Sahara desert trips are popular; marvel at the abundance of twinkling stars in the dark night skies, devoid of any light pollution, and listen to the sounds of nothingness. The sight of large dunes and remote oases will linger for a long time.
5- Mixed cultural influences from Arabs, Berbers, and Others: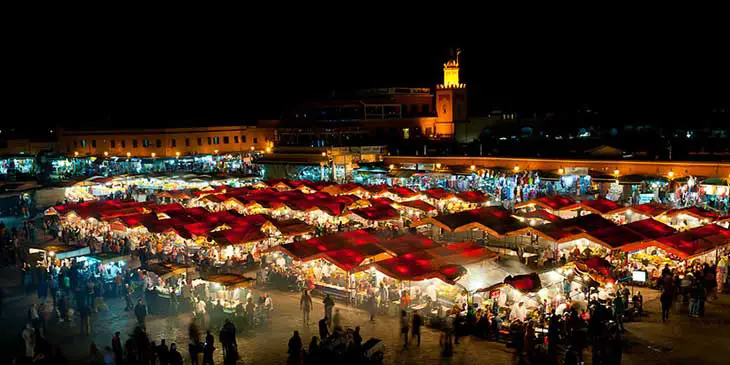 Morocco's population is made up of both Arabs and Berbers, with each group has contributed to the rich traditions and cultural practices that can be observed in the country today. You will also be able to spot influences from Andalusia, from the times when Andalusian Muslims moved to North Africa.
There are also legacies from the colonial era, with French, Portuguese, and Spanish influences seen in different parts of the country. Especially interesting for a predominantly Islamic nation, there have also been influences from Jews in Morocco.
6- Exquisite architecture all around the country: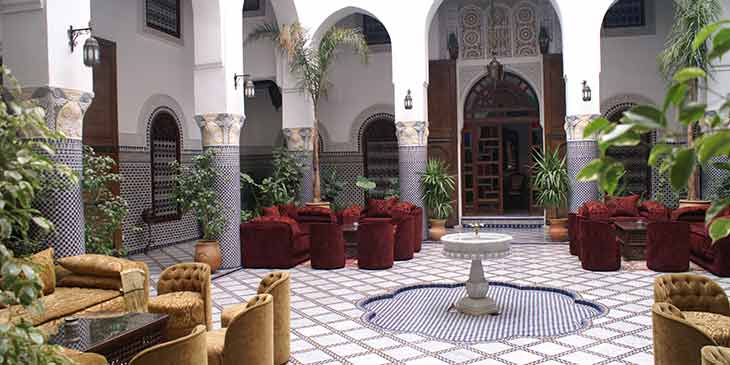 The cultural diversity of Morocco is reflected in the varied architectural beauties that can be found all across the nation. From majestic mosques to traditional riads and from brilliant palaces to sublime centres of religious study, Morocco has many fabulous buildings to admire.
Many buildings feature the traditional tilework, known as Zellige, as well as decorative carvings, woodwork, and plasterwork. Some of Morocco's most beautiful buildings include the Hassan II Mosque in Casablanca, the Saadian Tombs in Marrakesh, the Grand Mosque in Tangier.
7- Excellent shopping at the vibrant souks: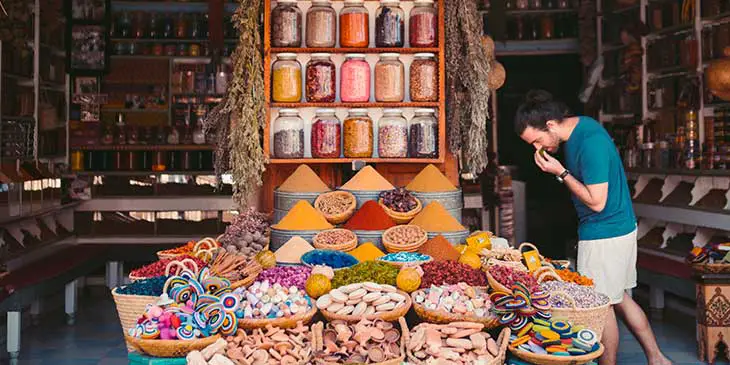 The seventh reason on our list of 10 reasons to visit Morocco is shopping in the vibrant souks. Every major city and town in Morocco has at least one souk, with most larger settlements having more than one. Souks are traditional marketplaces where locals go to buy an array of wares.
In some areas, souks may set up on particular days of the week, while the markets are held daily in other places. The souks have become something of a magnet for shopping-loving travellers, drawn by the evocative colours and scents and the overall sense of the exotic.
Common items to peruse and buy include spices, clothing, lamps, tea sets, musical instruments, and shisha pipes, as well as a range of souvenirs in more touristy destinations.
8- Delicious cuisine to satisfy varied tastes: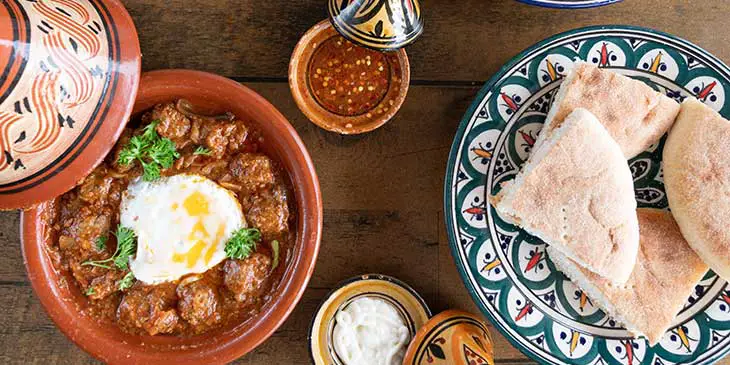 Morocco is known for its tasty cuisine. Spices are found in abundance in a typical Moroccan kitchen, adding plenty of flavour to dishes. Bread is a staple food, and there are various types, such as khubz, semen, and Bagheri to enjoy. Meat is a common ingredient in Moroccan dishes, with lamb, mutton, beef, and chicken being the most common. Seafood and fish are especially plentiful in coastal areas. Sardines are a particular favourite in Morocco.
9- Wide range of accommodations to suit all tastes and budgets: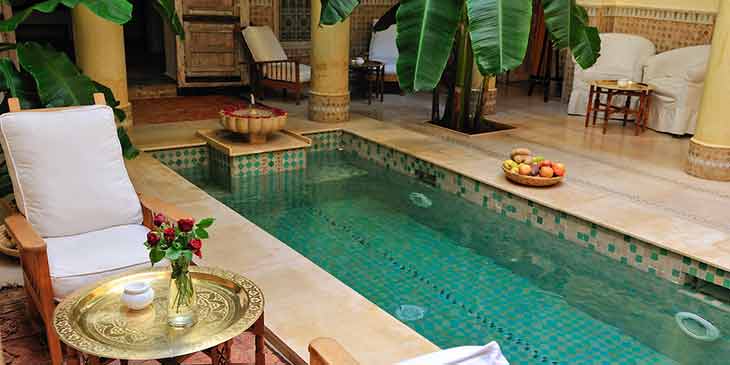 From plush five-star hotels to rustic tented camps in the mountains, Morocco tours offer a place to stay to suit all budgets, comfort levels, and expectations of adventure. Travellers can stay in traditional Moroccan accommodations, known as Riads and Dars, in the old medinas of many cities. This is a perfect way to experience life as a local. With smaller properties, it is sometimes possible to rent the entire establishment for a private stay.
10- Tolerant society with hospitable people: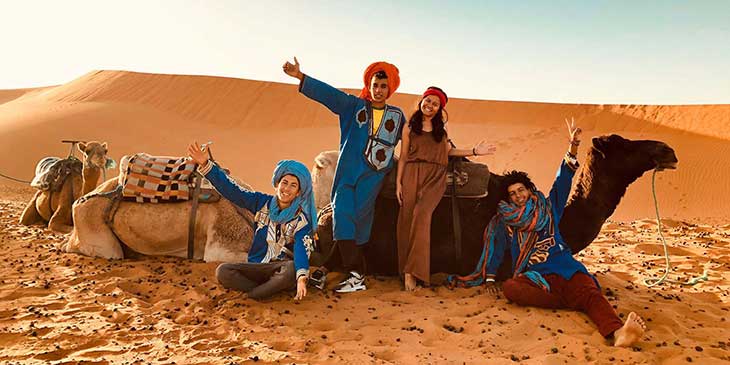 Morocco is known for being one of the most tolerant of the Arab nations. The country is relatively safe, peaceful, and stable. Moroccan people, both Arabic and Berber, are also noted for their warm hospitality and warm, friendly nature.
Tourists may receive curious looks in areas that see few visitors, but this is often followed by cheery waves, especially from children, and attempts to strike up a conversation. As a former French colony, French is widely spoken. In popular tourist areas, English is commonly spoken.
Communication is rarely a problem for visitors. This was the last reason on our list of 10 Reasons to Visit Morocco. Did we miss anything? Let us know!
If you need help choosing Marrakech desert tours that fit your individual points of interest, contact our friendly team today.